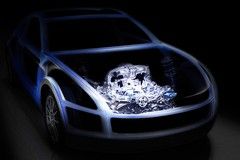 Subaru is finally set to reveal its own take on the 'Toyobaru' at the Geneva show, the small coupe that's being jointly developed by Toyota and Subaru.
This is a 'teaser' image of the new Sports Car Architecture Concept, which reveals little other than the basic proportions and - erm - the fact that it has an engine in the front...
The new small Scooby concept is set to cut a pretty controversial figure, though: not only does it drop the traditional four-wheel-drive layout in favour of rear-wheel drive but it also channels power via a CVT transmission.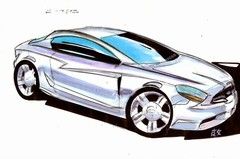 Subaru hasn't completely left tradition behind, however - powering the concept will be the latest 2.0-litre version of the classic four-cylinder boxer engine. Thank goodness for that...
As for more detail on what it will look like, we're still rather in the dark. Toyota is due to reveal a new version of its take on the concept (the FT-86) at the same show, but Subaru has thus far revealed nothing about how its version of the project will look, other than these sketches of a small Subaru coupe from autumn 2009. All we know is that the concept will point the way for Subaru's new design direction - but we'll have to wait until next week to find out exactly what that is.