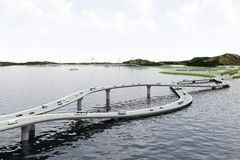 This rendering of a swoopy bridge is Dutch architectural firm NL Architects' proposal for part of a road connection between Hong Kong and mainland China.
It neatly solves the problem of switching from an area where motorists drive on the right (mainland China), to one where people drive on the left (Hong Kong), and could form part of the 50km link between Hong Kong, Macau and the mainland city of Zhuhai and which is due for completion by 2016.
The bridge switches drivers from one side of the road to the other via a neat double-helix switchover which takes one carriageway over the top of the other.