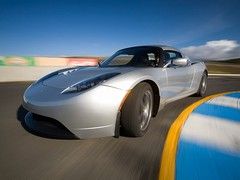 A newly extended contract with body and parts supplier Lotus will allow Tesla to extend the life of its Roadster until new models come on stream.
The deal has allowed Tesla to make a u-turn on plans revealed in February to stop selling cars altogether in 2011 while it prepares the ground for its new Model S saloon and the next-gen Roadster. The change of heart has no doubt been part-fuelled by the plans to offer stock in the company to the public - the planned stoppage raised doubts about the probable survival of the electric car manufacturer.
The original deal with Lotus was to supply Tesla with 1700 Roadster shells, ending in March 2011. That has now been extended to 2400 shells, and should see Tesla through until December 2011.
The new Model S saloon will arrive in early 2012, ensuring that Tesla dealers will always have something new to sell. There will still be a hiatus on Roadster production, however, as the second-generation Roadster isn't expected to come on stream until at least 2013.