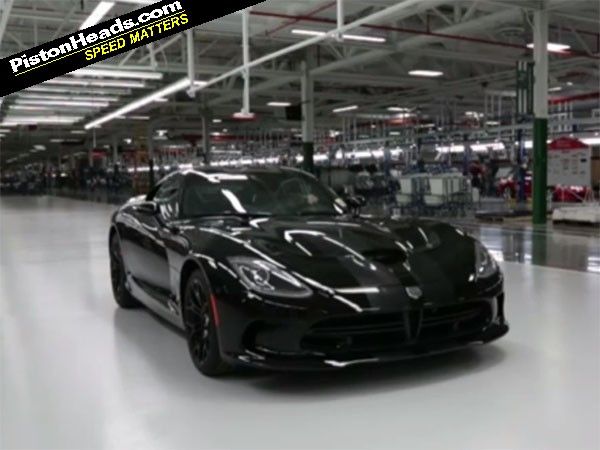 We're all a bit hot under the collar here about the imminent arrival of the latest incarnations of two US greats – the
C7 Chevrolet Corvette
and the
SRT Viper
. While the former's only just been revealed, the latter car has now entered production, and this great little video gives an insight into the journey each car makes down the production line at Conner Avenue, Detroit.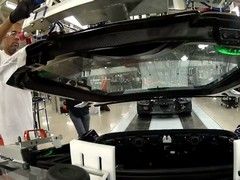 Vid shows how carbon-fibre panels are fitted
The video
, commissioned by The New York Times, follows a couple of cars through the process, from bare rolling chassis at the start, through the build of the engine and its fitment, the addition of the dash and frame, the rolling-road test of the running gear, before being driven naked into the panel fitment shop. After a few final additions and checks, there follows the finished car's first drive across the squeaky factory floor.
While there's nothing revolutionary here, the video provides an interesting insight into the production methods involved in the Viper's construction. For one thing, there's almost no automation here – the Viper is still built almost entirely by people. What's more, you won't see a one-piece monocoque being lowered over waiting subframes, as you would in most car plants; this is a body-on-frame car, so the video shows not only how workers bolt the pre-painted panels to the already-finished frame, but also the way the unclothed frame can be driven around entirely feasibly on its own. Although admittedly, that's probably better demonstrated by this video of some Swedes enjoying their bare SRT-10 chassis before they plonk a Saab 9-3 Estate bodyshell on top of it.
Oh, and one more thing: keep an eye out for Awesome Shirt Guy at 2:10. While the rest of the team decided (or had been told) to wear their branded SRT attire for the day, this chap decided a Viper-print Hawaiian-style shirt was the only way forward. What a hero.