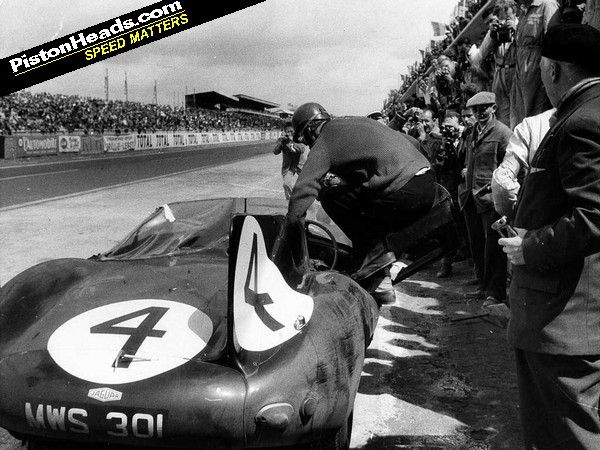 This Time For Tea? started out with the
onboard qualifying lap of Le Mans aboard the Porsche 936/77 Spyder
that eventually won the 1977 race with Jacky Ickx, Jurgen Barth and Hurley Haywood taking turns at the wheel. Mighty impressive it is too, especially the jink between two trundling (actually, probably not trundling at all) 911s mid-way down the run to Mulsanne at, it's safe to assume, 200mph or so. '70s Le Mans at its best, and hugely evocative view of a vintage era in the race's history.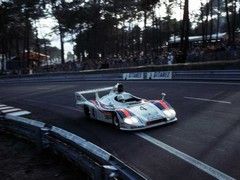 Porsche, Le Mans, the 1970s - good times
But, unashamed Porsche fans that we are, we couldn't help notice there's been quite a lot of Stuttgart metal on these pages. Even by our standards. Jaguar's had quite a presence recently too but, as is the way of things, one YouTube video led to another and
this onboard
of Mike Hawthorn in a D-Type in 1956 really stood out - and for more than the comedy value of him lapping the track before closure for the race and having to dodge cyclists and all manner of other slow-moving traffic.
It's bittersweet of course, this video filmed after the horrific crash the previous year – mentioned in the commentary – in which Hawthorn has, rightly or wrongly, forever been implicated. History records 1955 as a victory for him, Ivor Bueb and Jaguar but there was, of course, more to it than that. Set those darker overtones to one side though and you have a fascinating glimpse of old-school Le Mans, complete with tree-lined avenues, junctions rather than corners, peasants weaving about on bicycles and Hawthorn's engagingly laconic commentary, recorded with a Jerry-rigged mic and camera set-up. Anyone can do the same with a GoPro these days but back in the 50s onboard filming was clearly a bit more involved. Grim associations with tragedy do temper the desire to don the rose tints somewhat but the contrast between this, the Le Mans of the 70s and the modern track do show how the event has evolved.