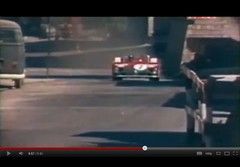 The return of our occasional brew-related segment comes courtesy of Twitter, and a morning tweet from motoring hack Mr Richard Meaden.
"Got work to do, so I'm watching Targa Florio vids on YouTube: 'Sideways through the corners, on the brink of disaster'" said @DickieMeaden. Cue no work from anybody at PHHQ for at least 15-20 minutes.
Turns out said video is of the 1972 Targa and is narrated by Vic Elford, legendary British rallyist, Sports car racer and F1 driver (don't you wish we still had sportsmen like that now?). It's a truly fab spot of nostalgia.
"I suppose one of the reasons I like the Targa," says Our Vic "is because it's very similar to rallying - which I did before circuit racing. The race is 11 laps over 45 miles of open mountain roads. The day of the race most of the roads are closed, but for most of the other practise time on the Targa they're open to the general public. And this causes all sorts of excitement. The biggest difficulty isn't really the road, but the animals or small children that might be waiting around the next corner."
No kidding, Vic. You can see why the Targa Florio hasn't been run with full-fat sports cars for some decades now. The FIA would most definitely not rubber-stamp it. And we imagine the sight of sports prototypes thundering through medieval mountain villages at three-figure speeds caused all sorts of excitement as well. Brilliant.