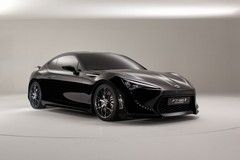 Toyota has issued studio photos of its latest FT-86 II concept, a car first shown at the Geneva show earlier this month - where it didn't seem to get much of a look in.
Either the project has been around so long that everyone's bored already, or black is a very poor colour choice for photography at a motor show, especially for a concept car where detailing is supposed to be key.
These official pics do a slightly better job of highlighting the concept's lines than we managed in our Geneva show report, but we'll leave it up to you to be bored or not. (Maybe like PH fanboy Riggers you're just impatient. Ed.) Either way, we reckon the car's best angle is from the rear three-quarter, where the rear diffuser and twin-exhausts hint at its performance potential.
From the front, however, it looks a little square - albeit while maintaining aggressive pretensions, with a large gaping grille and a tarmac-snorting nose.
As you probably know already, the production version of the rear-drive coupe (jointly developed by Toyota and Subaru) will feature a Scooby-sourced boxer engine mated with a six-speed transmission.
The last we heard was that the real car is expected to debut either later this year or early in 2012.