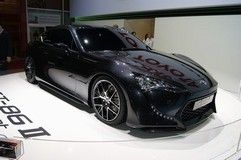 As the forthcoming rear-drive Toyota coupe - the FT-86 - gets ever closer to production, the Japanese car manufacturing giant has revealed a second concept at the Geneva show.
Imaginatively dubbed the FT-86 II, the concept is closer to the finished product - which we hope to se in all its full-production glory by the end of the year - than anything we've seen before.
Perhaps the most significant and yet least obvious changes over the previous concept are to the bonnet and roof line, both of which are slightly higher than in the previous concept, presumably in the causes of pedestrian impact safety and interior packaging respectively.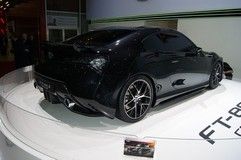 The mildly fussy spoiler, chunky bumpers and beefy exhausts are really motor show glitz, but beneath the bling what you see is essentially what we will eventually get in the forecourts of the nation's Toyota dealers.
As far as technical specifications go, it's all a bit sketchy at the moment. We know it will be rear-wheel drive, we know it will be powered by a 2.0-litre naturally aspirated Subaru-sourced boxer engine, and we know it will get a conventional manual transmission, but beyond that things are as dark as the concept's tinted windows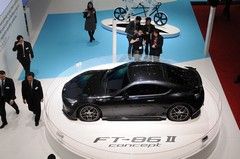 But although Toyota is keeping more or less shtum about the finer details, we did have a chat with a couple of senior Toyota chaps. They told us that 'the mechanicals have been kept as low as possible in the car, as well as between the front and rear axles, to help maximise the car's agility and sporty responses' and that inside there will be 'lots of fun buttons to press', allowing Toyota to make the car an extremely 'adjustable' driving experience.
And the price? There's little information on that, but an unfavourable exchange rat with the yen means that the original hopes of a sub-£20k sports car are likely to be decisively dashed, but that the FT-86 could still come in below £25k.