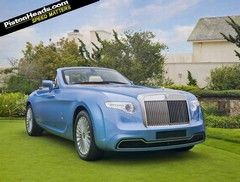 Update:
The owner of the one-and-only Rolls-Royce Phantom-derived
Pininfarina
_
Hyperion
has contacted PH to express bemusement (ahem!) at finding proposed copies of his car being offered for sale in our classified listings.
Although we were delighted to find the advert on our site yesterday, it turns out that the car's owner Roland Hall had no idea that a third party was proposing €7m copies of a car he himself commissioned from Pininfarina, and to which he owns all the rights and relevant production tooling.
Indeed Roland tells us that his car has never been for sale, in spite of a similar story that flashed around the internet last year (also published here on PH), and the Hyperion remains very much a one-off.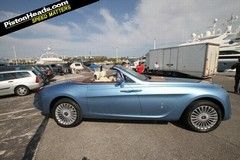 "It's not important to me that I have the only example in the world, and I suppose it's not inconceivable that another car could be built if somebody wanted to talk to me about it. But that's certainly not the case at the moment and the figure mentioned was ridiculous," he says.
Roland also confirms that the production tooling for the Hyperion remains at Pininfarina, and rather disappointingly it isn't tucked away in his garden shed. So if the intriguing possibility of further copies amounts to anything in future, we must assume the Italian coachbuilder will get the work and not our optimistic erstwhile advertiser...
Meanwhile, we didn't miss the opportunity to ask Roland what motivated him to commission the Hyperion in the first place.
"I was very much inspired by the 1930s, 40s and 50s, when these sorts of cars were the lifeblood for many companies including Bentley and Ferrari," he says.
"Of course it's not to everyone's taste, but it is something very different, and the times when people will be able to do this sort of thing are dwindling. If they're not done now, they're going to be very hard to do over the next 20-30 years."
Sadly, we would probably be forced to agree, but it's great that wealthy collectors can keep the tradition alive for the time-being at least. So more power to your elbow Roland, and if you ever do decide to move the Hyperion on - you know you'll always have a free classified ad here on PistonHeads...