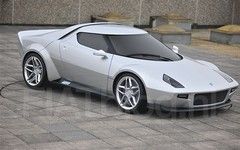 The mysterious '
New Lancia Stratos
'- images of which we published in fuzzy-photo form last week - may be more than just a one-off, at least if the latest flurry of rumours from the US is to be believed.
US mag Car and Driver is suggesting that, far from a one-off, the Stratos is headed for limited series production, Alfa Romeo 8C style, and that the anonymous financier is in fact helping to back the whole shebang.
C and D's sleuths have also decided that the car is the work of Jason Castriota, whose credits include a hand in the design of the Ferrari 599 and Maserati GranTurismo, the Ferrari P4/5 one-off, and the Bertone Mantide.
Before becoming ensconced in his new design role at Saab, Castriota worked first at Pininfarina, then Bertone. The logical extension of this is that the project was begun at Pininfarina, and completed at Bertone.
The Pininfarina bit seems to be borne out by this latest pic - which appears to have been taken on the roof of the firm's building in Turin - although we can't prove the rest of the story.
As for concrete news on the engine or chassis - there is none, but a mid-engined Ferrari-based platform and flat-crank V8 are still hot favourite.