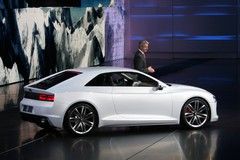 quattro: What we'd really like to be telling you about is a three hour documentary exploring the 30 year history that lies behind the name, the design process involved in creating this stunning reinterpretation launched at the Paris motorshow on Friday, and most importantly how much it's going to cost to get your name on a waiting list.
Instead all we can offer is 50secs of drooling courtesy of YouTube.
However as PH reporter Riggers managed to succesfully invade the concept car designer's personal space at a Paris motor show press dinner last week, hopefully more insights will follow when our man gets back from the Nurburgring.
(Yes, Riggers really does have that much fun. Sickening, isn't it...)