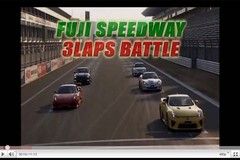 As far as we're concerned, this is the way to do motoring journalism. Forget your in-depth comparisons, your extensive spec sheets, your colourful magazine features or your slickly presented internet videos.
Why? Because all you really need to do is find a decent track (say for argument Fuji Speedway), equip a Lexus LFA, a Nissan GT-R, a Corvette ZR1, a 911 GT2 RS and a Ferrari 430 Scuderia RSD with a camera and some handy drivers, and give 'em three laps to get on with things. It's like a real life version of Gran Turismo. Brilliant.
Sadly, however, it seems that this is the last-ever episode of Japanese motoring video series Best Motoring International, and that's rather a shame...