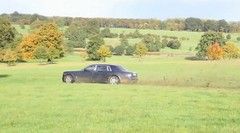 Here's something we've just stumbled across. And it's Friday afternoon, and it's raining, so we thought we'd share it with you.
It appears to be a video of a man in a Rolls-Royce Phantom, drifting it around in a field. And not just any Phantom, either - this one looks to be an extended-wheelbase version made after the 2009 facelift, putting its value at at least £300,000, if not more.
Why? Well, we don't really know, though we suspect the reason is 'because he can'. While it doesn't quite live up to the video's title of 'Rolls-Royce Rally Car', it's certainly something we never thought we'd see. We have to give him credit for that, even if we haven't quite worked out whether it's a good thing or not.
Go on, get involved and tell us what you think. You know you want to.