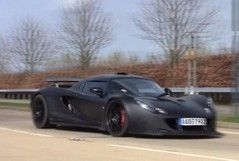 The Hennessey Venom GT
Hennessey Performance has sent us a link to this short YouTube clip of
the Venom GT supercar
on the roads around Silverstone.
Company boss John Hennessey drove the car for the first time last week, describing it as a 'magical' experience.
"This is a vehicle that I have dreamed about since I was 12 years old," he says, before offering us some of his own insights into the car's performance.
"It is quick, as you would expect. Curb weight is very light at 2,400 lbs, and our prototype is powered by a mildly-tweaked 6.2L supercharged LS9 V8 producing 725bhp, so naturally I was expecting it to feel fast. But what shocked me was how docile the car is to drive at any speed."
"It was just as happy to meander along at 20mph through English country villages as it was to effortlessly accelerate to 120 mph. The sense of driver confidence it gave me was astounding. Cornering speeds on street tires felt as good or better than some race cars I have driven on full race slicks. The aerodynamic package is truly amazing."
Well, it's probably fairer to let other less, er, 'partisan' reviewers provide the verdict on all that in the fullness of time. Meanwhile here at PH we're happy to raise a glass to one man's dream reaching fulfilment, and say we're liking what we've seen so far - a lot!
Hennessey Venom GT video: