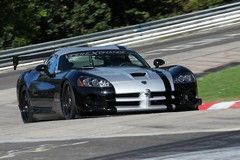 Dodge has released an official video of its latest Nurburgring record that is, er, not a record (because there is no such thing), confirming our recent story that Dodge had taken a 2010 Viper ACR around the Nordschleife in 7mins 12secs.
"We're extremely proud to set the lap record (It's not a record! - Ed) for a second time at the famed Nürburgring Nordschleife," said Dodge boss Ralph Gilles. "Our team returned to Germany knowing we'd left some time on the track when we set our first lap record, so this effort shows the incredible depth and capability the Viper ACR has by running a full 10 seconds faster than we did in 2008."
In fairness to Mr Gilles and the Dodge crew, it is a pretty impressive time. So should we mention that it's still a good fourteen seconds off the time set by the Radical SR8LM back in 2009? Nah, probably not...