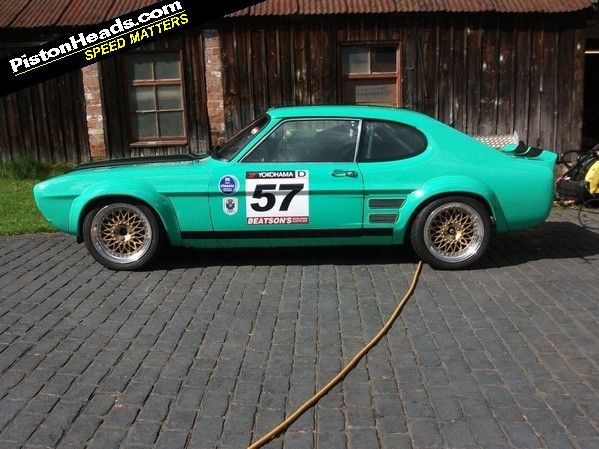 Sadly, it appears that Basil Green didn't keep a record of how many Perana Capris his company built in South Africa, although 500-550 seems to be a popular estimate.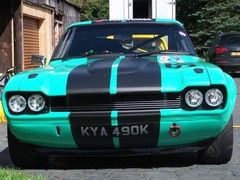 So if you wanted to do some historic racing with one of the only V8-engined Capris which Ford sanctioned, your options are to either find one of the remaining cars in South Africa - or have one built yourself, preferably from an original Capri XLR.
The latter is what the owner of this car did, and it looks like he wasn't shy with the chequebook. The XLR body shell appears to be as-per the shells used to create the very last Peranas, while a similar Mustang V8 and rear axle have also been pressed into service. After that though, all the parts have been selected strictly with racing in mind.
So if the new owner does decide to engage the car in competition the AP pedals and brakes, Bilstein springs and dampers, and a six-link, rose-jointed rear end should give them a reasonable chance of keeping it pointed in the right direction despite the five litres of cast iron Detroit (...actually this motor appears to come from Windsor, Ontario, but let's not split hairs) snortage up front. Having said that, in some of the pictures it looks like the car is sporting a bit of a nose-heavy 'rake' which may need sorting with a ride-height and corner-weights session.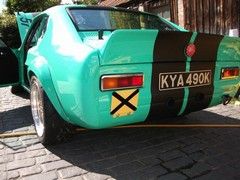 As good as the car looks (and probably goes), it still isn't a genuine Perana. And as such the asking price of £62,500 does seem a bit strong, although it has been built from the ground-up reportedly with brand new quality components throughout.
There will always be a market for old Fast Fords, and racing this car in historic competition against 911s and such like sounds like lots of fun. The strictly-classic brigade would consider it sacrilege to turn a bona-fide Perana into a racer anyway, so if you do want to race a Mk1 V8 Capri then this is the way to go, Shirley?