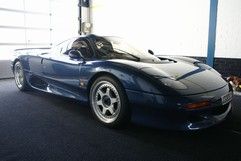 We know what you're thinking, and you're right - you don't see many of these for sale, and when you do very few are road registered. Only 50 of these magnificent machines were built between 1990-1992 by TWR.
Mechanically speaking the XJR-15 was supposedly an off-shoot of the 1988 LeMans-winning XJR-9 and was conceived originally to test Carbon and plastic body panels. An unconfirmed number of them were used in the Jaguar Sport Intercontinental Challenge (16 cars were on the grids but we don't know how many were used in total) which was a Grand Prix support race series held only at Monaco, Silverstone, and Spa and the cost in 1990 was around £500,000...each.
450bhp was on tap from the six litre V12, and with only 1050kg to shove it made the carbon-and-kevlar XJR-15 and extremely fast car in 1990. Here's a clip of Timothy Needell giving one the berries around Silverstone (start it at 2:30 if you want to skip the waffle).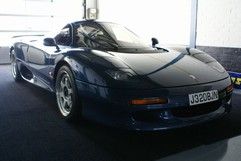 This one has never been raced
. As a matter of fact it was delivered new to Japan where apparently its first owner neither drove it or even started it up - surely through either restraint or foolishness (or both?) on a mammoth scale.
It has just been put on the market by its second owner in the Netherlands who claims that it has covered a mere 350 miles since being registered and who also reckons that this is one of very few examples which hasn't been rebuilt and is therefore in original condition.
Understandably the price is available on application only, and it's very hard to value because so rarely do they come up for sale. But despite the rarity and desirability of these beasties, it's probably safe to say that this one will cost somewhat less than the original half-mil'.
But being such a little-used example and with so few miles on it, would you use it?