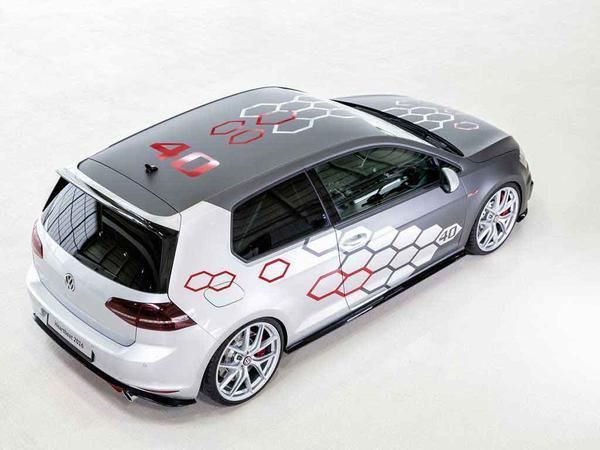 Not into your fast VW product? Bad luck. The timing of a special GTI bagging the
FWD 'ring record
is no coincidence, this news kicking off the annual Worthersee Meet celebrating all things fast and VW-based. This being the Golf GTI's 40th birthday year it'll be a biggie too, our Matt on his way out there to report directly from the show.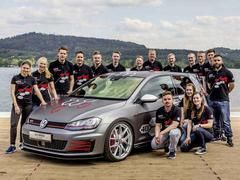 The team behind the GTI Heartbeat
Ahead of that VW has announced a special 400hp Golf GTI, based on the regular Performance model, fitted with seats from the 'ring record Clubsport S and called the Golf GTI Heartbeat. The fact it has the cage the Clubsport S won't ship with perhaps raises hopes of an even more potent GTI; the fact it's also packing an LED-lit, glass encased 1,360-watt sound system perhaps indicating slightly different priorities.
Unlike the 400-run Clubsport S this won't be a production model, this being the latest project car built for Worthersee by VW apprentices. Geared to the modding tastes of the Worthersee audience, these cars have typically featured big wheels, big sound systems and styling very much in keeping with the Euro tuning scene. From the air-suspended, gullwing-doored GTI Performance of 2008 to last year's 'Dark Shine' version, it's all about playing to the crowd. As such the Heartbeat's Golf R donated 400hp engine, Bilstein damping and wavey Brembo brakes get barely a passing mention in the press release, this instead focusing on the various celebratory 40th anniversary details and Heartbeat branding throughout.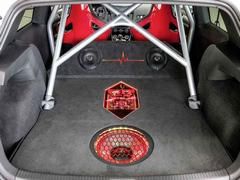 Track prepped AND ready to make some noise
There is a serious side to this too, the 12-strong team of apprentices from VW and seating subsidiary Sitech Sitzentechnik being given nine months to deliver the car from concept to show reality and perfecting skills in fitting, painting and engineering along the way. A bit of fun with some serious educational and commercial value. How very German!
This being the 35th Worthersee show an additional team of apprentices has been tasked with building another celebratory car, this one based on a Golf R estate. The team from VW's Zwickau plant has come up with the Golf R Variant Performance 35 with a 350hp engine upgrade, vented bonnet, airbrushed/LED trimmed rooflining and 2,500-watt sound system. Matt - pack your earplugs, the Europop is likely to be on the loud side...