Christian Gebhardt is a name you should know by now; he's sportauto's test driver, responsible for such lunacy as the 7:42
and going round Hockenheim in
quicker than a Porsche 918.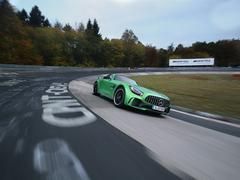 Here he is again, making a car lap the Nordschleife faster than you ever thought possible. This time it's the
, a car described by its makers as the 'Beast of the Green Hell' no less. And, well, it certainly lives up to the name! It laps in 7min 10.92sec, a ludicrous time for something with a kerbweight on the chubby side of 1,500kg, less than 600hp and two-wheel drive. For some context, the Ferrari 488 GTB with the same driver
. Wow. That sort of time puts the GT R up with some very serious cars indeed, including the NISMO version of its Nissan namesake (7min 8.68sec), and beyond even the Nurburgring package Lexus LFA, which did a 7:14 a few years back. March of progress, eh?
As always, Gebhardt's driving makes for an absorbing watch. He's fantastically quick through the Foxhole/Adenauer Forest complex, and fairly scythes through the section leading up to Brunnchen. Keep a look out for that nine-stage traction control dial flashing as well...
[Thanks to BridgeToGantry on Twitter for making us aware of the vid!]