Look at the car in these pictures and, if you have more than a passing acquaintance with the TVR Griffith, you'll notice something's slightly amiss.
The registration plate bears the number '02' in its midst, marking it out as a late Griffith (as do the rear lights), and yet the oh-so-shiny cross-spoke alloy wheels look like they belong on a much earlier car.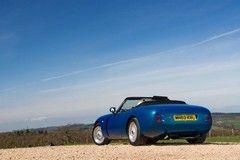 So far, so odd. But all should become clear when you realise that this is a Griffith SE, one of the last 100 or so limited-edition cars to come out of the Bristol Road works, a mere couple of years before the company came under the stewardship of a certain young Russian.
As a TVR textbook (TVR - Ever The Extrovert, hand-delivered to me by Garlick and transported, appropriately, via his own Chimaera) explains: "After ten years of production, this Griffith 500 was the last off the line and only distinguishable from earlier models by its clear indicator lenses and different wheel design. It was a hard act to follow and its subtlety was not repeated."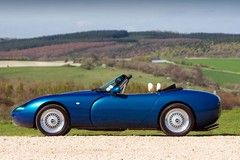 In fact, as far as we can work out this car is pretty much the very last Griff to get a numberplate slapped onto its curvaceous rump, burbling out of the factory in June 2002. It's strange to think that this car, so redolent of TVR's 1990s zenith, should have shared factory space - or very nearly - with Smolenski-era cars.
And very much is a TVR of the 90s. Where the TVRs of the early 21st-century became increasingly outrageous and extreme, the Griffith remained true to that British hot-rod spirit that made TVR such an appealing brand in the first place. Simple attractive lines, hiding a simple rear-drive chassis and a plain ol' honest-to-goodness V8 up front.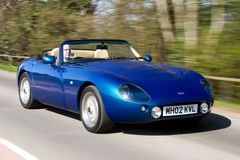 Sure, the Cerbera seats and Chimaera dash of the SE cars are beginning to edge the Griff towards the deranged swoopiness of the last TVRs, but this is still a deeply traditional cabin, where wood, leather and aluminium abound, and where over-wrought styling doesn't.
It feels like a deeply traditional car when you fire up that big 5.0-litre V8 and get the car on the move, too. The driving position is hardly the last word in adjustability, but once you've wedged the seat into the right position you should find that it's actually quite comfy. The steering, gearchange and clutch pedal, meanwhile, are perhaps most politely described as 'positive' (and less politely as downright agricultural), but again this is key to the Griffith's simple, no-nonsense appeal: this is a car you have to manhandle to get the best from.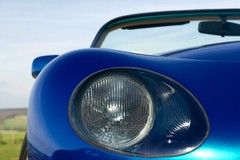 That's not to say it isn't a perfectly capable point-to-point car, though. Far from it. It might feel like a 1960s sports car, but it feels like a 1960s sports car
. Consequently, the turn-in and damping are all surprisingly good (although if you're pushing hard and are used to more modern machinery you might find the brakes a wee bit weak). Not good from a purely objective point of view, you understand - if Jaguar or Nissan had brought this car out in 2002 you would not be impressed - but far better than you feared it might be.
But objective competency is not the point of cars like the Griffith - subjective enjoyment is. And the Griffith delivers bucketfuls of that. The chassis was developed from the Tuscan race car, so it feels sharp, engaged, alive, while the 320bhp V8 is raw, visceral and very powerful. Whether or not it is possessed of that full claimed compliment of horses is beside the point - it feels fast, and that is surely what counts above all.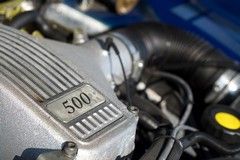 Most importantly, the hand of erstwhile owner of TVR, Peter Wheeler is thoroughly evident in the way that the Griffith goes about its business. Wheeler was famously scathing of nannying, controlling driver aids - not even seeing the point of fitting ABS. Thus, you feel fully and completely in control of the Griffith, while at the same time feeling not entirely in control - if you step over the mark there is nothing to catch you.
But the Griffith is no monster; it treads the fine line between scary and satisfying with true delicacy. Sure, it won't suffer fools, but nor do you feel it is going to bite you provided you treat it with sufficient respect. In fact, if you're used to that particular breed of modern performance car that eats up cross-country miles faster than a hungry fat man devours chips in McDonald's (you know, the Subarishi GT-R type car), you will be more than a little surprised by a drive in a Griffith.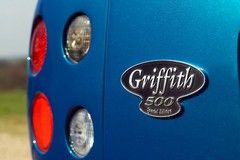 No, you won't get from A to B as rapidly (at least not without taking the sort of risks that would be unwise on a public road) but you will almost certainly have a heck of a lot more fun, stirring the Borg Warner T5 gearbox, revelling in the 5.0-litre V8's bellow, and all the time being aware that it is you controlling the car. And that it's up to you if you want to provoke it into doing something inadvisable.
The Griffith is, one might argue, everything that made TVR such a great brand distilled into one mouthwatering package: brutal, beautiful, no-nonsense, and fast. It's often said that they don't make 'em like this anymore. In this case, it's sadly genuinely true.
A massive thanks to The Fernhurst Motor Company for lending us their (very lovely) car.