Given Honda's aspiration for the
Civic Type R EP3
was for it to be a 'hatchback bullet', you could forgive the Japanese firm for being a little miffed this model has become more widely referred to as the 'breadvan'. Still, why worry about a nickname when the car itself is one of the best hot hatches of its period and now available for as little as £2,000?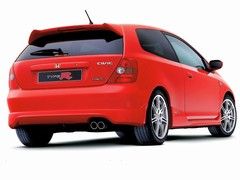 First UK Civic Type R arrived in 2001
You might have to spend a bit more to bag a carefully tended
EP3 Type R
, but even the best shouldn't set you back more than £6,000 unless you want the rare Japanese market model with its standard limited-slip differential.
UK Civic Type R EP3 models changed little throughout their lifespan, which stretched from 2001 until 2005. A mild facelift in 2004 was notable for slight revisions to the steering to help reduce understeer. This update also brought a lighter clutch and flywheel, as well as projector headlights - the only notable changes.
Throughout its life, UK Type Rs were fitted with a K20 2.0-litre normally aspirated petrol engine producing 200hp at 7,400rpm. There may be only 145lb ft of torque at 5,900rpm, but the engine only has 1,204kg to lug about and is helped by a close ratio six-speed manual gearbox.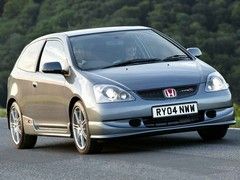 Mid-life facelift tweaked steering
Much of the Type R's appeal lies with the VTEC variable valve timing, which comes into play around 5,500rpm to deliver a rush to the redline. Some drivers find this engine short on low-end power but it's designed to be revved hard and can provide 0-62mph in 6.6 seconds when driven as Honda intended and will go on to a top speed of 146mph.
With Honda build quality and attention to detail, even the oldest EP3 Civic Type R still makes for a vividly fast road car and capable track machine if it's been cared for. On the eve of the launch of the new Civic Type R, the EP3 is great value and also a practical choice for those who need a single car for all reasons.

---
PHer's view:
"The EP3 was hugely entertaining to drive, practical enough to get my bikes in the boot and the biggest surprise was that it was the cheapest of any of my previous cars to run and maintain. That's despite being significantly quicker and a fairly big step up in terms of performance."
Phil Higgins

---