The man from What Car? was insistent. "That's our McLaren," he said. Sorry, just signed for it. "Haha, right ... but it's our McLaren." What about that white one over there that's just arrived too?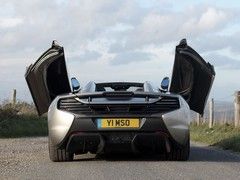 There's a lot of expensive carbon on there
If it's possible to look crestfallen upon taking delivery of a £200K supercar our man was that, having just been comprehensively out-specced by virtue of the frankly comedic £85K options spend on 'our' rather natty looking
. And much as it's a bit shallow and pitiful to sink to such 'mine's more expensive than yours' there's no denying the extra vajazzle applied to this car does look rather fine.
And very McLaren. No stripes, no shields, no loud paint; just a reserved MSO Sarigan Quartz paintjob and lots and lots (...and lots) of very, very expensive carbon fibre trim pieces. And some titanium wheel nuts.
It's impossible to spend time in a 650S without comparisons to the inevitable Ferrari 458 variant, in this context the Spider. Watch this space on that score but let's just say driving them as near as back to back as matters is an interesting exercise and overturns quite a few assumptions.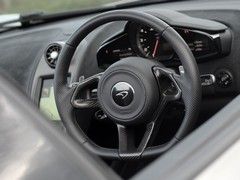 Spartan but luxurious - very McLaren
See, accepted wisdom has it McLaren does things with icy efficiency and clinical precision, leaving the theatrics and attention seeking to the Italians. With the coupes there's an element of truth in this. But when applied to the Spiders things take a bit of an about turn.
First thing you notice on firing up the McLaren? God it's got loud! Quick check of the spec sheet ... oh yes, sport exhaust option ticked. It sounds a bit contrived with its growly start-up flare but it's a proper sit up and take notice moment that silences any fears the 650S will remain aloof and unwilling to engage. At town speeds it's the more interesting experience too, with all manner of exciting sounding whistles, gurgles and whooshes coming from over your shoulder. Yes, McLaren responded to early complaints that the 12C sounded a bit anodyne with its Intake Sound Generator and we're not always fans of contrived sound effects. But in this case it actually works, managing to make the McLaren sound more exotic than even the naturally aspirated Ferrari, which sounds a bit flat until the revs start rising.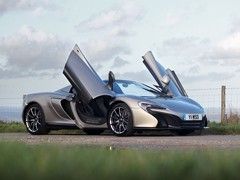 Wow factor guaranteed with 650S
It's at these everyday speeds where the turbocharged character also feels a bit more exciting, the initial pause in power delivery - lag would seem too harsh a description - building a sense of excitement in what's to come rather than getting in the way. It doesn't take long for the turbos to spool up either and once they do you get a truly exciting 'we have lift off' sense of acceleration that doesn't abate until, well, it doesn't really abate. Leaving you thinking 'what must a sodding P1 be like?'
Thunderbirds are go!
Deliberately leaving it in a higher gear to enjoy this sense of forced induction rush is one tactic for making the most of a 200mph supercar at a quarter of that potential top speed, the 650S surprisingly successful at providing entertainment at real world speeds.
There's a cool sense of style about the whole thing too, the early glitches about non-functioning nav and other worries now forgotten and enjoyment of McLaren's clean-sheet design now possible. With no emotional baggage about the way it had always done things there's a freshness and logic about the interior and the way it focuses attention on the driving experience that's really enjoyable. It's minimal without feeling Spartan and though there's always a slight whiff of electronic contrivance beneath it all control weights and inputs all feel brilliantly honed too. The 650S's more decisive front end gives you real confidence of something to push against and if there isn't quite the playfulness of the Ferrari it's still a thrilling ride accommodating of a wide range of ability. Early wobbles or not it's an impressively mature effort for what is still effectively a brand new to building road cars.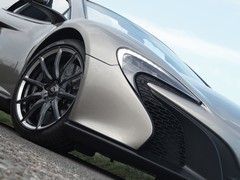 Wince as you hear the crunch of carbon on tarmac
And though there are modes and dials to twiddle you never get that configuration anxiety that you may have just enjoyed that bit of road a bit more if you'd only selected a different combination of dampers, steering and gearbox. It seems to work equally well in all of them, even the Track powertrain/manual configuration acceptable for road use, the handling dial wound back to a more mellow setting for the bumps.
Bump and grind
There's a lovely contrast between the precision of the steering inputs, lack of slop in the brake pedal and gearshift and the occasionally rabid power delivery of the turbo V8 in the few opportunities you get to really let it off the leash. There's a real ferocity to it, twinned with a feeling of lightness and integrity not found in even the 458. Indeed, though both only quote dry weights the McLaren comes up 80kg trimmer and that's against a Maranello weight that, the small print admits, is arrived at with optional fixed race seats and forged wheels. Truth be told it's probably closer to 100kg which, combined with additional torque and its bombastic delivery, makes the McLaren feel decisively more rapid even if the numbers are closer than the seat of your pants suggests.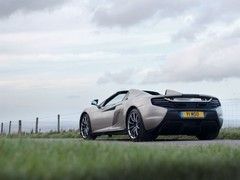 No compromise with the loss of the roof
It's not perfect, mind. The dampers still rattle and the expensive bare carbon nose is far too keen to grind itself against the floor, on one occasion doing so over a speed bump with just 9mph showing on the digital speedo. The front lift system is essential enough to make the £3,640 charged for it seem mean, the fact it's hidden in a menu on the options stalk rather than an easily accessible button for those 'oh ... shiiiiii...' approaches to an obstacle even more frustrating. You can at least work around that in town but in the softest damper setting it'll tap out through even mild looking compressions at speeds beyond the axle lift's operating window.
First world problems eh? With its butterfly doors, exposed carbon and carefully stage managed persona the 650S manages to transcend those slightly awkward half 12C, half P1 looks and carry off true supercar novelty with a sense of daily usability too.
The white one would have been fine too though. Not to mention about a Range Rover cheaper.

---
MCLAREN 650S SPIDER MSO
Engine: 3,799cc V8 twin-turbo
Transmission: 7-speed dual-clutch auto (SSG), rear-wheel drive
Power (hp): 650@7,500rpm
Torque (lb ft): 500@6,000rpm
0-62mph: 3.0sec*
0-125mph: 8.6sec*
Top speed: 204mph*
Weight: 1,370kg (dry)
MPG: 24.2mpg (NEDC combined)
CO2: 275g/km
Price: £215,250 (£310,360 as tested, comprising MSO Special Edition Pack of bespoke paint, satin finish to exterior carbon, carbon rear diffuser, carbon side blades, carbon wiper cover, MSO branded carbon sill panels, MSO 'Super Lightweight Palladium and Diamond Cut Wheels', titanium wheel bolts and more for £47,000 plus carbon fibre seats £5,120, power steering column £1,380, carbon wheel arches £2,280, front axle lift £3,640, carbon exterior upgrade £8,740, extended carbon interior £4,510, carbon airbrake panel £3,180, carbon engine bay panels £3,180, carbon diffuser £3,180, carbon engine covers £2,280, carbon mirror casings £2,280, carbon side intakes £2,280, sport exhaust £4,790, black painted brake calipers £910 and alloy oil and cooler caps £360.)
*Performance figures quoted with standard fit Pirelli P Zero Corsa tyres