Call it speculation, call it rumour, call it what you want - the prospect of a more exciting
is one that surely deserves more attention. See PH isn't all that sold on the Golf flagship, despite what many others will say, and so a bit more dynamic edge would be more than welcome.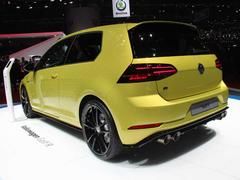 More interesting than just the colour it turns out!
Initial interest was piqued at the Geneva show,
on VW's stand spotted with an Akrapovic exhaust and Pirelli Trofeo R tyres, the same as used on the Huracan Performante. Following that
has been released outlining a few more Performance upgrades and, well, they sounds rather good actually.
"Even rawer, even less compromising, even more strong-willed" is how VW officially describes this Performance package, the most interesting bits as far as PH is concerned being the "shock absorber adjustment" (which looks like offering ride height settings), front air curtains from the GTI Clubsport and a raised top speed - the video shows 267km/h, or 166mph. There's also a performance brake option which, according to the R Performance mini site, brings drilled discs and a pad upgrade.
Along with the exhaust and the tyres, there's a suggestion that this Golf R could be rather more fun than the standard car. Especially in yellow. The video doesn't state there will be any more power, though that's not really ever been lacking from the R.
Weirdly however, the Golf R Performance has been wheeled out with very little fanfare. We've contacted VW UK, who said it was a European package that isn't available yet on the Continent yet. As for over here, the official line is that "We're still evaluating whether it will be offered for sale in the United Kingdom." To the multitudinous Golf R fans out there, you know what to do!