'Race car for the road' is a hopelessly hackneyed car marketing phrase, but one look at the
in the naked carbon proves it's not an idle boast from Glickenhaus. Even the 'Stradale' version, complete with token number plates, appeared ready to charge through the Alps and win at Monza. Sort of now.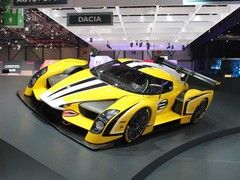 Two SCG300s will race at the N24 this year
With the Competizione version available to order at the show, more information is currently available on that. The V6 twin-turbo engine is said to be "derived" from a Honda unit which implies a fairly thorough reengineering by Autotecnica Motori. And it can be swapped out (!). By designing the carbon structure with packaging flexibility in mind, Glickenhaus says the rear frame "can be easily exchanged to allow the use of different engines on the same platform." Remember the road car will use a twin-turbo V6 as well, but an engine that Glickenhaus is "specifically developing" which suggests it isn't something off the shelf.
The design is inspired by LMP1 and 2 cars, the styling by Granstudio and the aero work by Podium Engineering. Pushrod suspension is used for both models, with the Competizione racing on Dunlop tires with Bosch electronics. So close are the two models that Glickenhaus says the racer can be "easily owner converted" for road use.
As for actual motorsport, the SCG003 will be raced in a specific Glickenhaus racing program across the world after its debut at this year's Nurburgring 24-hour. So if you missed out on a P1 GTR...
The SCG003 Stradale will be ready for delivery by the end of this year, Glickenhaus promising "the experience of a modern, easy to drive race car, with downforce and engine torque that are unknown in the supercar world." Quite a USP to have. Orders are being taken now but the SCG003 obviously isn't one of those vehicles where a base RRP is released. If you have to ask and all that...
From the show floor it's the attention to detail that in the SCG's design that leaves the biggest impression. Both cars are little more than a seat, racing wheel and a dashboard of switches but it's all so beautifully done. As you would expect given the time and expense lavished on the project. When there's more on this very exciting car we'll keep you updated.
---