Here's a sad fact for you: the Suzuki Swift Sport is the last naturally aspirated hot hatch on sale. Everything else you can buy, from a lowly Fiesta Red to a BMW M135i, has some form of forced induction. Many of them are very good, but aren't hot hatches more than any other car about chasing every last rev for whatever performance is there? Don't misunderstand, some of the latest hot hatches are truly excellent, but - cliche alert - something about the experience has been lost in the move to turbos.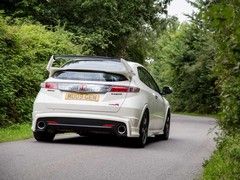 Shy and retiring it certainly is not!
So when the opportunity to spend some time in a hot hatch that couldn't possibly be more about revs and less about low effort torque, we jumped. Well, I did. To say I have a thing for fast Hondas might be
. Heck, I even got a pretty ropey Accord
Now I could begin with the absurdly stiff ride, the seat that's a little too high and the ludicrous new price of £38,599 but that would be missing the point. Let's talk about the engine. Over a conventional FN2 Civic Type R, the Mugen received new cams, pistons, intake and exhaust tweaks plus an ECU remap. Power is 240hp at 8,300rpm. Torque? Who needs torque when you have revs? OK, it's 157lb ft. At 6,250rpm...
Even at low revs, the Mugen's incredible response and willingness is exciting. There's so little inertia to the way it revs, a trick even the best turbos haven't yet managed to replicate. It comes as a quite a surprise in fact.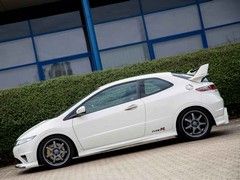 Wheels save 5kg each and look ace
But soon the oil has warmed up. The slip road is clear. Third would more than suffice but second would be even better. What was a free-revving engine at low revs becomes totally frenzied from 5,600rpm, the cam changing and noise hardening as the Civic now shrieks and sprints its way to somewhere nearly 9,000rpm. Good grief it's exciting. So exciting. Not exactly easy to access or even mega fast in the face of new hatches, but thrilling to a level they just wouldn't get. It's stunning.
Second to third as quick as possible is just brilliant too, the shift weight, speed and throw beyond reproach. Honda is known for great manuals and this one doesn't disappoint. It drops the revs right back into the VTEC zone (yo) and you're off again but all too soon the motorway traffic is looming and it's into sixth to cruise with them.
'Cruise' is a loose term when associated with the Civic Mugen. Not only is that wild 2.0-litre spinning at about 4,000 revs, people are looking. A lot. The old Type R was not a shy car in any form, but with a sod-off rear wing and gleaming Championship White paint it attracts a great deal of attention. Not much of it is positive. To some B-roads...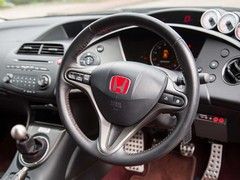 Eyes on the prize (aka the rev counter)
Here that maniacal appetite for revs can really be indulged, aided by some sensibly close ratios and that glorious gearbox. The official line from Honda was "not to rag the s**t out of it" but, but... I didn't, because the grumbly brakes and unrelentingly stiff ride temper your B-road pace. Honest. I just ensured the straight bits were as fun as possible...
The Mugen feels built for a track, the uprated suspension lacking the compliance of the best hot hatches that work so well in Britain. I have no doubt it would be superb on a circuit as the grip just feels phenomenal and the upper reaches of the rev range would never be left. Those fleeting experiences of holding the brakes in second through a bend to then explode out the other side will remain for a while though. It's spectacular.
Given only 20 were ever made for the UK, it's not surprising to find no Civic Mugens for sale. Especially as, a year after launch, four remained unsold and the 2.2-litre model was developed to encourage buyers. I also have no doubt that a new Civic Type R would be miles faster than a Mugen down a road and on a track. But that engine alone ensures the Mugen has very, very special place in the annals of fast car history and also in this little fanboy's heart. What a magnificent thing.
Unfortunately we didn't get any audio of the Mugen. See
for an old Autocar vid. The noise certainly comes across!