It's that time of year again! The Nurburgring enduro extravaganza is upon us once more, with the speeds limits lifted and the new section of track in place. Matt, Mikee and Nik are in attendance, the former with BMW and the latter with Falken. Expect regular updates from them both here on what's going on. Follow their progress here on the liveblog and via Twitter on
. Keep in touch via the hashtag
---
BMW hospitality, otherwise known as my second home for the weekend, was not a great place to be this morning. Over coffee and croissants, the BMW PR host and I were discussing how well the M6s were doing, only for the third-place car to be taken out by a 1 Series. Awkward, as the kids might say...
Having watched up at Metzgesfeld for a while (a great spot if you can get up there), Nik and I carted ourselves and our mud into the M2. As fate would have it, the nav has directed us home via some sections of derestricted autobahn. With some decent weather and a clear third lane, the M2 charged to an indicated 160mph and felt like it had even more to give. Fantastically stable too. In one weekend Nik has gone from not a kilometre of autobahn to a pretty good PB - congrats!
---
Yes, yes, I'm at hospitality again, but it's to report in on actually heading out and watching some fantastic motorsport this morning. Pflanzgarten at 6am in the 24-hour is spectacular, cars flying down the hill as the morning light - no rain! - emerges.
I was there until I had to return to the car for the power nap, but it was easily my favourite part of the weekend so far. The speed the GT3 cars carry going through there is phenomenal, particularly so when they have to overtake slower cars or avoid the recovery trucks...
It was great to see the cars attack the brake-bump-brake-turn from behind too. There are pops and bangs as the throttles are lifted, a flash of brake lights, a wiggle from the car as it's unsettled and then a proper stop to go right. It's fantastic. All this while surrounded by just a few dedicated fans, similarly engrossed in the experience. If the rain had proved frustrating yesterday, 45 minutes down in the forest was the perfect reminder of why this is one of the world's best races.
---
Torrential rain brought the race to a standstill with only an hour completed. After what seemed like a lifetime, all teams are back out on track and racing. Rain is still coming down on parts of the circuit and the fog is settling in. I escaped the corporate side of the race by venturing out to the forest and to Brunnchen, where all the most hardcore German fans appear to be.
This area feels more like a music festival than an endurance race. People coated in mud dry off by bonfires, others watch the big screen from their festival chairs and plenty of bars are blaring euro techno, adding to the glorious racket from the racing cars.  A couple of lads even set up a full Gran Turismo race chair in their makeshift living quarters.
My favourite exhaust notes so far? Has to be the Mercedes-AMG GT3, Bentley Continental GT3, Porsche Cayman GT4 Clubsport and, surprisingly, the Hyundai i30 Turbo.
---
I picked a great time to come to the Nurburgring 24-hour for the first time. Apparently snow stopping play is a first.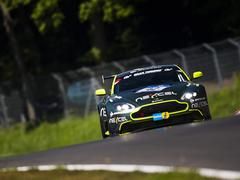 Before the race started I got to drive a parade lap as part of a pack of Astons. I was down to pilot a Vanquish Volante - can't complain, obviously - and was expecting the whole thing to be conducted at the sort of gentle, waving to the crowds pace that these things usually are.
Not quite; it transpired that the Vanq's open top meant it had been deputized as a camera car, so would I mind leading the parade while a photographer got pictures of the chasing pack, led by a pair of the track only Vulcans?
I'd said "yes" before a couple of complicating factors were dropped in: Vulcans don't like running at low speeds, and the snapper - the fearless Max Earey - wasn't going to be strapped in. Eek.
It was undoubtedly the most memorable lap of the Nordschleife I've done that hasn't involved leaving the track, a £1.8m megacar looming in each door mirror and Max sliding across the back of the Volante like a sidecar pillion rider. The pics were worth it though; we'll hope to bring you one soon!
---
BMW Hospitality (nicer than the media centre), Saturday 1400h
Another Nordschleife lap done! The M Corso parade may well have been the slowest circulation too, but what a great experience. It was even busier than a tourist lap! The Corso was a fascinating display of BMW cars too, with a host of M4 GTSs, the odd E39 M5 or two and even a V10-engined E91 3 Series Touring. One to put the M2 in the shade!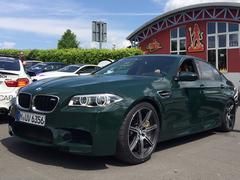 However, even at quite a modest pace, the smallest M car was a joy. Responsive, quick and really good fun. How do we go about returning for a proper lap?
There's a Bugatti Chiron on track at the moment, then we need to think about getting a spot for the race. It somehow hasn't rained yet, so we'll take the coats and prepare for the inevitable!
---
Nurburgring media centre (where else?!), Saturday 1000h
Let's be clear from the off: I love the N24. But we've faced a few, er, difficulties this year already. Driving to the circuit yesterday, the rain was so torrential that we had to turn back and wait. My misunderstanding on parking meant I had an hour's walk back to the car last night. And the hotel is 30 miles from the circuit. The Wi-Fi isn't even that good (that last one is a joke, honest).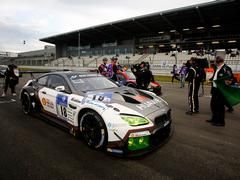 There's an M6 on the front row...
But when you're finally stood with a beer watching an M6 chase an R8 that's in pursuit of Continental GT, none of that seems to matter. Contemporary GT3 racing is a real treat, with such a variety of cars and some incredible noises too. It's between the AMG GT and R8 for best sound so far, I think.
Beyond top 30 qualifying, we haven't seen much yet. I've just finished interview with BMW's senior bods and driver, plus there's the M Corso lap to do soon also. Can you guess I'm on a BMW invite? After that we're free to explore however, and I can't wait. But before then, I'd like to catch some of the WTCC race also. Yes, touring cars on the Nordschleife. Volvos on the Nordschleife. Let's go!
---
Schumacher S, Saturday 0800h
Credit where credit is due, as a first timer to the N24, the spirit of the fans really is something else. Hail storms and gale force winds battered the Nurburgring hard, but that didn't stop fans from heading out to the Schumacher S for a drift show. Drift Brothers brought its LS7-engined Nissan 200SX and LS3 BMW E30, plus Falken's own drift team were out in full force putting on a spectacle for the cheering fans.
Plumes of smoke hung low on the S as the roaring E39 M5 was flung sideways and a V8 engine-swapped E30 eagerly chased with a few inches between them. An incredible way to get the crowd excited for an entire day of racing. Let's hope the weather holds up!