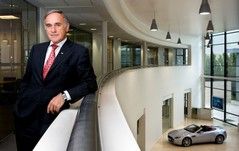 Dr Bez at Aston Martin HQ, Gaydon
Aston Martin chief exec Dr Ulrich Bez has hinted that a new generation of models could return to the classic 'straight six' engine configuration for which the marque was once famous.
PH bumped into Aston's top man at Gaydon yesterday as we got a chance to admire the crisply updated new Virage. Given the close relationship of all its current performance models under the skin, we wanted to find out a bit more about the longer term future of Aston's line-up.
According to Dr Bez, the current VH platform that underpins all its current models has many years of life left in it. The packaging possibilities haven't been fully explored but already VH has delivered everything Aston needs for a range of very individual models, he reckons, adding that no rival company has been able to create such a wide range of cars from a single modular base. Further evolution, and not revolution is the key to future developments, he says.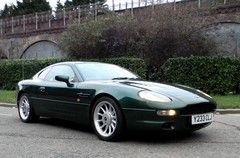 DB7 was the last six-cylinder Aston
When talk turned to engines, Dr Bez let slip that he's extremely interested in a return to a straight six configuration for future Aston Martin road cars. How interested? Well, interested enough to have already notionally settled on an inline engine of 'around 2.5 litre capacity with direct injection and turbocharging', he revealed.
'And of course a straight six will fit, because we can already get the V12s in,' was the intriguing parting shot before he was dragged away to some more important encounter - leaving a hole that just begs to be filled with a bit of wild speculation...
Well, your guess is as good as ours, but the idea of a front-engined, high-tech, six cylinder 'junior' Aston Martin five or so years from now is pretty intriguing isn't it?
We thought so, anyway, so here are a few pictures of earlier six-cylinder Astons to look at while we're waiting for somebody to fill in the blanks...