Don't be fooled by Marek Reichman's exotic sounding name - Aston Martin's design boss is actually from Sheffield and as straight talking as that heritage would suggest. And in a wide-ranging conversation covering the Lagonda, current Aston design language and the collaboration with AMG he has plenty to say about where the brand is headed under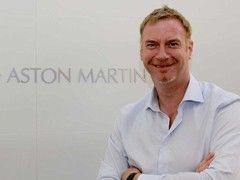 Reichman says Aston design goes in eras
A common criticism of Aston Martin's design - and by extension Reichman's role - is that it's perhaps one of the easiest jobs in the industry given that accepted wisdom has it the Vantage/DB9 shaped rut it's been stuck in of late is feeling a bit like a stuck record. A great one, perhaps, but isn't it time for something new? Outgoing boss Ulrich Bez presented a
, saying the Vantage shape was basically bob on from the start and if a design template works for Porsche why shouldn't Aston Martin have a trademark shape with a lifespan measured in decades too?
Reichman accepts the compliment but is quick to assert this isn't necessarily the case. "Design consistency is something every brand craves. Look at BMW - from a distance can you tell the difference between a 3 Series, a 5 Series or a 7 Series? Same with the iPhone; it might change and evolve but you know it's an Apple," he says. "Aston Martin is at a junction in terms of investment," he continues, referencing new management and the growing involvement of Daimler and AMG. "We have eras; Porsche has continuum, an evolution. We have clear design periods, whether that's the DB series of cars, the V8s or the more recent cars. But we're on the edge of a new era now."
While the mainstream range sticks to a common theme hints of what's to come can be seen in cars like the One-77, CC100 and, to an extent, the current Vanquish. "The Vanquish has a much more sculpted look, it's a much more aggressive car," he says, warming to the theme. "At core it's still an Aston though, I'll never design anything to shock for shock's sake."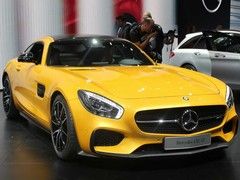 Next-gen Astons will share much with this
created for Gran Turismo 6 comes up at this point, the virtually realised study apparently delighting all at Aston Martin for its popularity as a download. A mid-engined supercar, it's a big departure from the front-mid engine and transaxle format that's dominated of late mechanically and stylistically. Surely Reichman's not suggesting THAT big a departure from accepted Aston wisdom? Especially given the AMG GT, from which next-gen Gaydon products will take their engine and electrical components, is a front-mid V8 with transaxle mounted gearbox.
He grins, keen to talk about the affinity felt with the AMG guys - especially boss Tobias Moers - on the early 'collaboration meetings' that have taken place so far. He goes as far as admitting Moers has seen early mock-ups of 'next-gen' Astons and declared the more radical of the two as 'his car' in terms of its look. We'll see for ourselves in 18 months says Reichman but clearly the marriage is a happy one. Of Moers and his team he says it's "a joy to meet enthusiasts" and "a breath of fresh air", Marek drawing comparisons to AMG's status within Daimler to those Aston once had within Ford as enthusiasts working within a larger corporate entity. Fired up then? Just a bit.
And what of the Lagonda, possibly the most exciting car not to be on display at Paris? Was the Middle East only policy a deliberate marketing decision or one based on a legislative atmosphere more accommodating of such projects? 60:40 former to latter reckons Reichman, saying such a car would be possible in Europe, Asia and the Middle East but a challenge in markets like the US. Culturally offering a car to customers in that region as a bespoke project just for them carries huge status, their passion for the classic Towns Lagonda sealing the deal. The flexibility of VH underpinnings and expertise in carbon bodywork makes it possible technically, Marek saying it's 'weight neutral' with an equivalent Rapide despite being nearly a metre longer. And if not for sale here in the UK for sure we'll be seeing some on Gulf plates in London before long, Reichman not denying the possibility. It'll remain exclusive though, production of 200 or so absolute tops. And "difficult to put a price on" officially, given all will be bespoke to each client.