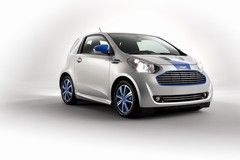 Fans of Aston Martin's Cygnet (and there must be a few somewhere) will be pleased to learn there's a new way to spend over £43,000.
It's called the 'Cygnet & Colette' and is the result of a collaboration between Aston Martin and Parisian fashion house Colette. It's still a Cygnet, however, and that means throwing away the best bits of a normal Aston Martin, grafting the remaining grill to the front of a Toyota iQ, and dropping in an (admittedly exquisitely) tailored interior.
Unique to the Colette edition is the Lightning Silver paint with Colette blue details, a 'race collection' inspired front bumper and bonnet livery, door handle badges, enamelled boot badge, mirror caps and diamond-turned alloy wheels.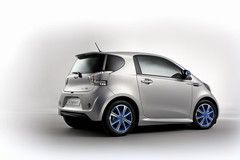 Entry is gained using a solid aluminium and blue enamelled key-ring, and inside there's a 'Bitter Chocolate' interior (sadly not edible) which, apparently, captures the essence of the Colette's mascot - Oscar the chocolate Labrador (
mmmm... Eau de wet chien... Ed.
).
Orders for the 'Cygnet & Colette' can be placed at the Colette store in Paris and, with a limited run of 14 cars, exclusivity is guaranteed.