Truth be told, there's no real need for any further
drives. The car was launched to a rapturous reception in 2013, it sold out
, and there was even sufficient demand to create the originally unplanned
. It's fabulous; we get it. Indeed the P1 is now treated as a 'heritage' model by McLaren - time moves quickly in Woking - with development rapidly progressing on the
, the next Ultimate Series car.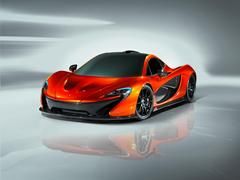 2012 concept is the actual birthday boy
Officially this was a fifth anniversary shindig for the P1, and McLaren knows PH loves a party. Especially a P1 party. While it was
that the car was officially revealed (as well as the
was shown at Paris in September 2012, hence the special occasion. Don't forget too that McLaren Automotive had existed for only a couple of years back then; to exhibit a concept like that was bold, but to produce it the very next year remains an extraordinary feat.
The cynical might suggest that McLaren would also like to remind the world, what with potentially holy-trinity eclipsing hypercars from Mercedes and Aston forthcoming, that it has been in the hybrid hypercar game for a while now. That's your pretext then but, quite frankly, the most tenuous of justifications would have sufficed - if a P1 drive is offered, in any context, you drop everything.
To add to the excitement, and trepidation, it's a drive in P1 OOV - AKA The P1. A prototype that became the press car, driven by the great, the good - and the not so - of the industry, it has covered nearly 23,000 miles in the process. It's Amethyst Black, and remains the car you think of (if not a blue Impreza) when 'P1' is mentioned.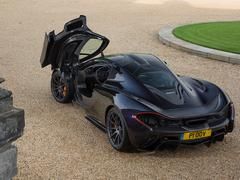 Climb aboard, get comfy...
It's definitely well used, which only adds to its charm. Dozens of sweaty palms have worn down the steering wheel Alcantara, the wide carbon sills have been scuffed and the paint - despite some remedial work - carries signs of a life well lived. P1 OOV isn't perfect to behold, but it's so, so much more interesting as a result.
To actually drive though? The P1 is bloody terrifying - and that's the polite phrase - on first acquaintance. I mean really, really scary. Part of that is knowing its value, part of it is knowing that two M3's worth of power is going to two tyres not much bigger than those on a single M3, and part is the sheer drama of everything you're faced with.
Seated on the left and positioned what feels like almost horizontally, it's a tight cabin; driver and passenger pushed to the centre due to the space demanded by the MonoCage structure. The vast view out, the 'Powertrain' and 'Handling' dials plus the steering wheel - albeit here with 'DRS' and 'IPAS' buttons sitting like forbidden fruit - will be familiar to McLaren drivers. But this is not a humble, accommodating, relaxed 21st century kind of hypercar. Stones flick off the carbon underbelly so loudly it feels like you might leave with gravel rash, the twin-turbo V8 expels all manner of angry coughs, sneezes and whooshes and the tub almost seems to resonate with the road.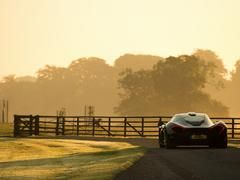 Don't forget to raise the nose on the way out
That's good though, isn't it? You're involved and alert and on the ball, which sounds far preferable to a false sense of security when dealing with 400hp more than a GT3. You soon start to relax a little as well; the view out reduces the intimidation factor markedly, allowing you to place the car accurately, as well as clearly seeing the other traffic that's obstructing your once-in-a-lifetime drive. The throttle pedal's travel is long and it requires a very deliberate push too, meaning anywhere near seven, eight or nine hundred horsepower won't come as a shock. Sorry, that's bollocks; it will always come as a shock, but the pedal helps reassure the driver that they may have some control over it.
Begin to assert yourself - or at least give yourself the impression of assertion - and the P1 is capable of things you won't have believed possible. The acceleration is feral, wild and unhinged. And utterly, utterly addictive. Full throttle was never reached but it didn't matter, the intensity of (nearly) 916hp and 723lb ft in less than 1,500kg of car is so gloriously, crazily, brilliantly brutal. The electric motor fills in where that 3.8-litre V8 is normally spooling up, but then there's more torque too, resulting in a ferocious, insatiable rush of performance from very few revs, accompanied by a cacophony of sound: perhaps not truly musical, instead a fascinating amalgam of seriously aggressive V8, turbo whistle and a faint electric whirr.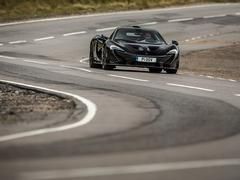 Agile, nimble, delicate, really sodding fast...
Never have I driven a car where the rate of acceleration seems so uninhibited by choice of gear. Seriously, you have to check - was that third, or fourth? Might have been fifth. Really f***ing fast simply doesn't do it justice, it's so unlike anything else, and of course the feeling is magnified ten-fold on the public highway. That there's traction too, the 315-section P Zero Corsas coping admirably with such rampant fury, makes the experience all the more shocking. Genuinely, a P1 makes a 675LT feel merely sprightly... GT-Rs and 911 Turbos become reasonably brisk, really quite chubby, everyday sports cars by comparison. Wow.
Here's the joy of the P1, however: you don't actually have to be travelling fast to enjoy it. In fact, with so much going on, the car almost encourages a more relaxed pace. The sounds from the engine, the noise from the road and the sense of the scenery blurring through the screen will convince you of a greater velocity when in fact you're only doing 70. You just got there quite quickly, quite dramatically and quite violently.
It means the P1 is still enjoyable on typical British A- and B-roads. Seriously. The steering is beyond reproach, delicate and feelsome while being really precise too. The Akebono brakes are fantastic: firm, accurate and with a beautifully positioned pedal. The ride, while stiffer than other McLarens, is still possessed of a level of fluency and poise that makes it really usable and comfortable in the UK.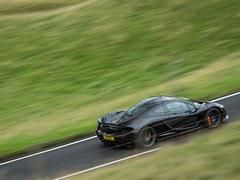 It's fun on a normal road at normal speeds. Honest
To be honest these are traits familiar from all McLaren products, it's just that the P1 ramps up the immersion, involvement and sheer intoxication to an unprecedented degree. It steers better than any other McLaren, it brakes better than any other McLaren, I think the visibility might even be better than any other McLaren; all superb trademarks of the brand familiar from elsewhere, done here to the absolute pinnacle. This driver interaction is so key to the P1 appeal: the P1 at 40mph is more engaging than a 911 Carrera at three times that speed.
Tell you what the McLaren P1 feels like on the road, and it's meant sincerely and entirely as a compliment to both brands: it feels like a 220mph Lotus. Get over the intimidation factor and it feels about Evora-sized, with the same sort of gorgeous feedback and response a driver would expect from a Hethel product. The P1 is a beautifully honed and immensely rewarding sports car whatever the scenario, and that's the most pleasing discovery of the whole endeavour. That it has four times the power of a supercharged Elise is not simply the icing on the £2m cake - that would be absurd - though hopefully you're seeing the point. Which is that eventually the shock value of all that power subsides, to reveal something perhaps even more satisfying.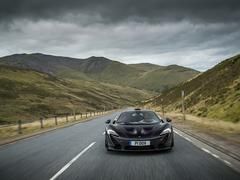 Maybe not a whole new thing now, but it is fabulous
So yeah, it's quite a special car, the P1. Fun when using 90hp, transcendent when using more than that, and a gorgeous static object as well. And it will do all this with EV capability and while returning - officially at least - fuel economy comparable to a TT RS. It's difficult to fully contextualise without the other two, but even so there can be little doubt that the P1 is one of the most thrilling, astounding, and desirable cars ever produced in the 100-odd years we've had them. Its combination of traditional, intimidating supercar with staggering hybrid system performance and tangible driver involvement represents something not far off automotive nirvana.
There's a distinct possibility that P1 OOV might not be driven a great deal again, it's simply worth too much. But if getting into another McLaren P1 takes £2m then it doesn't feel like a penny would be wasted. And if this is what the future of sports cars feels like, be they with 900hp or considerably less than half that, then bring it on.