How do you make an expo about new cars more interesting? Launch an old one, of course! That's the Jaguar strategy with its current London-based Tech Workshop - open to the public this weekend - by revealing an E-Type. But an E-Type with a difference...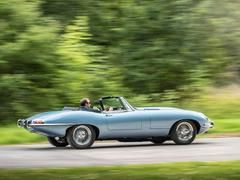 All as you were out here...
Yes, this Series 1.5 Roadster doesn't have an engine. Instead it has batteries and motors for its propulsive force, making the E-Type Zero an entirely electric vehicle. With 295hp though it's still capable of 0-62mph in 5.5 seconds, and Jaguar claims a real-world range of about 170 miles and a typical charge time of six-seven hours.
Moreover a lot of effort was said to be exerted on locating the EV powertrain exactly where the engine was, therefore maintaining the E-Type balance. Jaguar says the battery pack here has the same dimensions and a similar weight to the original straight-six, with the electric motor then where the gearbox used to be. It has allowed the structure, brakes and suspension to be carried over unchanged in this conversion from internal combustion to electricity. The weight distribution is identical, with total kerbweight down 46kg for the Zero.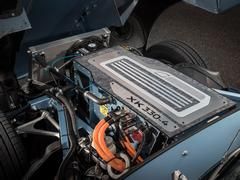 JLR Classic Director Tim Hannig said of this E-Type: "Our aim... is to future-proof classic car ownership. We're looking forward to the reaction of our clients as we investigate bringing this concept to market." In addition, the technology could be used to convert any XK-engined Jaguar; we all know there's a few of those around...
It's quite a step though, isn't it? Arguably so much of the classic car experience is about the sounds and smells of internal combustion plus, with the E-Type in particular, simply staring at that gorgeous old straight-six. It will be fascinating to see the response to the Zero, and whether a market can emerge for future-proofing these and other iconic cars. Should you be interested in one, drop Jaguar a line at info@classic.jaguar.co.uk.