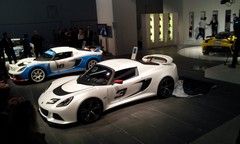 Following the six-concept furore of the Paris show, Frankfurt seems a much more grounded place for Lotus - but it's no less exciting for fans of the marque. As well as a new Exige S that packs the Evora's supercharged Toyota V6 under its unmistakeably beetle-backed body, there's a new Evora GTE for European markets, a new supercharged Elise S, and a fantastic Exige RGT rally car that will compete on tarmac rounds of the WRC next year.
The new Exige S features an 1080kg lightweight chassis, and the 350hp 3.5-litre V6 Supercharged Evora S Engine so it should be quick - although Lotus isn't quoting figures yet as they've not been officially certified. The new car also gets a dramatic new look with a new front splitter and rear spoiler.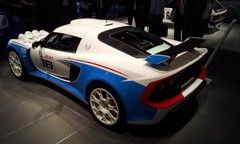 Built for what Lotus calls 'the adrenalin hungry sportscar aficionado', the Exige S features Pirelli P-Zero Corsa tyres as standard, and a Lotus DPM (Dynamic Performance Management) switch allows the driver to switch between three driving modes: Touring, Sport and DPM off. An additional Race Pack option is available which adds a fourth driving mode setting: Race. This setting provides the maximum possible traction out of corners, but also features Launch Control and an optimised suspension setting making the car perfect for track work.
Staying on the Exige theme, we can't tell you much more about the rally car than we have already. Except that it's very pretty, and it's built for a new rear-drive GT category that will form part of the existing WRC championship next year. Oh, and it looked great next to the Lotus Sunbeam rally car parked on the stand - Lotus last won the WRC with this very car back in 1981.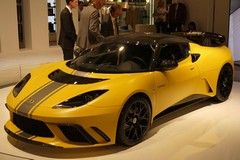 While the original concept for the Evora GTE road car boasted 420hp, centre-lock wheels and an automated AMT sequential racing gearbox, the one at Frankfurt has a powerhike to 444hp to go with its new 'pedestrian friendly' but still aggressive bodywork. Talking of the body, lots of it is carbonfibre, thus trimming 105kg off the kerbweight, and the new look is how European versions of the GTE special edition will appear when production starts.
The show stand also features Lotus's 2012 model year 'standard' Evora which as we discovered recently has been much improved, and a new Elise S model which replaces the Elise SCwith a new 1.8 litre supercharged engine delivering 220hp and extra torque.