Lotus fights back! In a somewhat surprising move Lotus has used the Sniff Petrol Bahar Mickey take as a springboard for a surprisingly punchy fightback response. Click on the thumbnails to enlarge!
---
Since we posted this story Lotus has released the following statement:
"The new Proton owners DRB-HICOM are currently in the middle of their due diligence of Group Lotus. There have been and continue to be positive discussions between Group Lotus senior management and senior management at DRB-HICOM both here in Hethel and in Malaysia. Despite various rumours in the media to the contrary, at no point has DRB-HICOM indicated to Group Lotus that they intend to put the company into administration and we welcome the opportunity to put that rumour along with incorrect speculation that production has stopped , that Dany Bahar is no longer CEO and that we are no longer involved in F1 to bed.
"It's no secret that we are going through a very difficult time at the moment due to the change in ownership but we're doing everything we can to get through this period and come out the other side stronger than before. We're very grateful for the continued support we receive from the people of Norfolk and all over the world."
The original story can be seen below.

---
Lotus's ambitious 'five-year plan' for a massive - and expensive - product revival to turn it into a profitable concern is looking shakier than ever. There are even whispers that the company could be put into administration in order to alleviate its £200 million debts.
Rumours really started to swirl around last week, when the Lotus F1 team ended a title sponsorship deal with Group Lotus, prompting suggestions that the F1 team's owner, Genii Capital, might be interested in buying out the Norfolk sports car maker. For its part Group Lotus says that the relationship with Lotus F1 is now as 'brand partners' and the mutual benefit derived carries no financial cost to either party.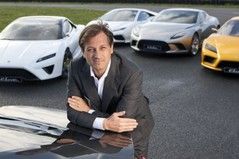 But that's not all. According to
an article by Autocar's Steve Cropley
, DRB-Hicom, the new owners of Lotus parent company Proton, aren't convinced of the value of the Brit sports car maker and so could be looking to offload or dissolve the brand.
Were it to be offloaded, one of the leading suitors could well be China Youngman - a company that's already tried to bid for Saab, and that has been Lotus's importer in China for more than half a decade.
But how true is all this? As Autocar points out, Lotus has failed to deny the rumours of its problems, the 60-day period where Malaysian law demanded that Lotus's flow of cash was interrupted as Proton changed ownership is well and truly over, and Lotus CEO Dany Bahar is 'on leave' this week. The official line from Hethel would be that they are awaiting news themselves, hence the lack of any comment.
Make of those facts what you will, but it does make Sniff Petrol's recent Bahar picture parody seem all the more realistic...