Jaguar has now confirmed all the intel for the F-Type SVR ahead of its Geneva debut. Get ready for some big numbers!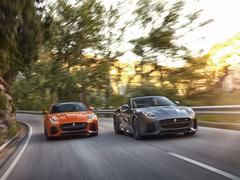 The near £20,000 leap from F-Type R AWD Coupe to its £110,000 SVR equivalent is a fair step up and buys you 25hp and a modest sounding 14.5lb ft. This takes the headline numbers from the R's 550hp and 501.5lb ft to a Project 7 influenced 575hp and 516lb ft. The Convertible costs a further £5,485. Spec sheet bragging rights stem mainly from the fact the Coupe is now a genuine 200mph car, this being a significant 14mph increase on the regular R AWD equivalent. The 3.5-second 0-62mph is also four tenths faster, the performance gains seemingly greater than the power increases would first suggest.
As promised by SVO boss John Edwards in our recently published interview, as an SVR-branded car the performance increases are from weight reduction and improved aero as much as raw power. To that end if you spec the car with cost options like ceramic discs - a 21kg weight saving on their own - carbon fibre roof and 'carbon fibre pack' you can take up to 50kg out of the kerbweight. Jaguar's official number for the Coupe is 'from' 1,705kg so it's still a hefty hunk of British beef. That's at least 100kg more than a 911 Turbo S, the Porsche faster, more sophisticated and arguably fancier but starting at £145,773 for the S or £126,925 for the non-S.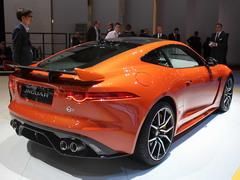 Starting prices in all cars of this class are all exactly that though, the opportunities (and temptations) to add to that all considerable.
Setting that to one side what else marks the SVR out from the rest of the F-Type range? Most people will spot the gaping vents in the aerodynamically tuned front valance and its more aggressive splitter, this matched with a flat underfloor, rear diffuser and active carbon fibre rear wing. They'll also hear it coming, the titanium/Inconel exhaust system saving 16kg on its own and boasting "an even more purposeful, harder-edged sound", there clearly being some folk out there who think the standard car sounds a bit wimpy.
Substance under the skin comes in the shape of chassis upgrades extending to revised spring and damper rates, new lightweight forged wheels with wider tyres and recalibrated damping and gearshift software. Interestingly Jaguar has also invested in all-new diecast aluminium rear suspension knuckles that significantly increase stiffness in both camber and toe. These and a slight stiffening of the rear anti-roll and softening at the front are intended to improve steering response and precision, in theory giving the SVR a noticeably more agile character. Proof will be in the driving and all that but with all-wheel drive, Torque Vectoring by Braking and a number of other tweaks the result should be a faster, more sophisticated and more effective F-Type better able to use its extra power.
Will it actually be more fun than the unashamedly
rear-wheel drive R though? We've been spending some time in an AWD version of late and will report back on that shortly but clearly the decision has been to put speed and composure higher up the agenda than rampant showboating. Inevitable really if the SVR really is intended to tempt serial 911 Turbo buyers out of their four-wheel drive, four-wheel steer Porsches.
Elsewhere there's a whole lot of quilted this and premium that to help justify that six-figure pricetag but the various permutations and options there are best explored on Jag's customer site and configurator. To get you in the mood there's the predictable corporate chest-beating in the promo vid below.
More when we get to see the car in the metal in a few weeks time...