and the new Club Racer models, the Evora 400 appeared to have slipped slightly in Lotus's list of priorities. But of course it's still on track (no pun intended) for first deliveries in August and therefore media drives are hopefully not too far away.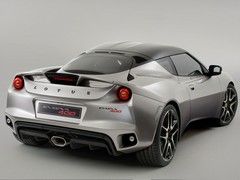 Evora gets LSD for the first time
It's time then for the track sign-off, with the important number from Hethel being 1:32. That is the Evora's time around the 2.2-mile Lotus test circuit with Gavan Kershaw driving, a full six seconds faster than the old
. That sounds like a very significant improvement but of course it's hard to quantify with so few other cars having driven there. For some context though Dale clocked a 1:45 at a wet and greasy Hethel when testing the
The car seen here is a 'standard road specification prototype', running road tyres and road suspension. You have to wonder sometimes why anyone bothers with adaptive dampers when Lotus does the conventional methods so well but that's a discussion for another time. Looks pretty damn good here, doesn't it? Don't forget the 400 is 22kg less than the Evora S with a standard limited-differential, as well as the additional 55hp.
But then ride and handling isn't an area where the Evora really needed to improve. Let's see how the rest of the car stacks up soon.