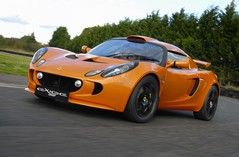 Not the new Lotus Exige
The Lotus Exige is to be treated to a V6 powerplant for 2012, as Lotus focuses on keeping it range fresh while it readies its five-car 'new world order'.
The Exige has been absent from European price lists since its 1.8-litre Toyota-sourced motor was forcibly put out to pasture by Euro5 emissions regs in December, so Lotus has been hard at work getting the 3.5-litre Toyota V6 it also uses in the Evora to fit into the Exige.
Most media attention is focused on the 'new-era' Lotuses, which will be kicked off by the Esprit in 2013, but Hethel is keen to keep things ticking over until then, and a V6 for the Exige (which will be available in both 276bhp naturally aspirated and 345bhp supercharged forms) is just the start.
As well as a new engine, the Exige is due to get a significant styling revamp. This has been necessitated partly by the new engines (which, from the looks of the spy shots you can see published by Autocar, has meant an overhaul of the Elise-based coupe from the B-pillars back), but also by design boss Donato Coco's desire to make the Lotus range less visually 'weak'.
Thus the Exige will also get sharper front-end styling, as will the Evora and Elise, and will soldier on refreshed while the new models begin to creep ever closer to the showroom.