was a wrench for Matt Becker it must have been made easier knowing he had quite a job to go to at Aston Martin. Like his father before him, Becker shaped the way Lotus cars drove and handled and put an instantly recognisable and highly respected character at the heart of the brand DNA. A skill he'll now be bringing to future Aston Martins in his role as Chief Engineer for Vehicle Attribute Engineering, as confirmed by a spokesman at Aston Martin exclusively to PistonHeads.
It's a key appointment by new Aston Martin boss Andy Palmer and ensures a distinctively British character at the heart of the brand's development team. Which will be an especially important job as Aston Martin makes the long-awaited move to using AMG developed engines and electronics.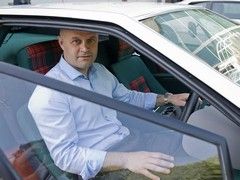 Becker: bye-bye Lotus, hello (officially) Aston
Aston Martin badly needs this technological leg-up to compete with the latest from Porsche, Jaguar and forthcoming rivals like the Maserati Alfieri but it'll be up to Becker and his colleagues to ensure it's done in keeping with core brand values. As such his job ties together vehicle dynamics, NVH, aerodynamics and vehicle durability and proving across all vehicles in the range, including the first of what's described as a 'new generation' of models making its debut in 2016. As design boss
put it to us recently, "Aston Martin is at a junction in terms of investment. We have eras; Porsche has continuum, an evolution. We have clear design periods, whether that's the DB series of cars, the V8s or the more recent cars. But we're on the edge of a new era now."
And Becker will be at the heart of this, according to our source an example of "Andy Palmer continuing to build and develop Aston Martin's top class engineering team." Future Aston Martins may well be using German engines and know-how but the number of Brits like Palmer, Reichman and Product Development Director Ian Minards (Becker's new boss) in senior roles will hopefully ensure that quintessential character shines through. It'll need to - rarely since the golden era of the 50s has the GT/sports car sector had so many strong brands fighting it out with such accomplished and emotive products. It may not be a high volume sector but it's one that makes a lot of noise.
Becker officially starts his role on January 5 and must, by our reckoning, be enjoying gardening leave familiarising himself with all the rival products 'his' Aston Martins must beat. Which doesn't sound an entirely unpleasant way to spend time. Having given him time to get his feet comfortable under his new desk we'll be keen to set up a chat with him at the earliest opportunity.