It was bound to happen soon enough. Not only are the two extremes of the Caterham Seven range represented by 'numbered' Sevens (the
), the same policy is used overseas. Think of the Seven 360 and 480
. So from next year the Seven gets a range refresh that will replace the Roadsport, Supersport and Superlight models with derivatives named on their power-to-weight ratios.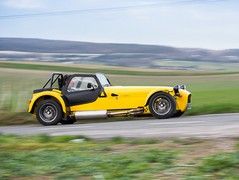 Names are changing, fun will remain
Using our expertly judged powers of deduction we would say that those models are probably the aforementioned 360 and 480, or at least very close to them. The 360 offers exactly the same power as the current 2.0-litre Duratec
at 180hp and the 240hp 480 is actually a little ahead of the Superlight's 210hp. That does still leave the two 1.6-litre Sigma engined Roadsport models (125 and 140hp) to be replaced, perhaps by 250 or 280 models as they follow the power-to-weight idea. Apparently styling changes will be incorporated to the range refresh to mark out the new models as well. And fear not, UK cars will keep the side exhaust and not default to the noise strangled rear-exit system on Euro spec cars.
The European 485 did, however, introduce a 'Sport' button to the Seven so that will likely make an appearance in these new Sevens. All of the new models will also be offered with two option packs, R or S. The former is a 'Race' pack, the latter a 'Sport'. The CSR remains untouched in the Seven range.
Expect the new Sevens as the sun comes back out again in the spring, with full confirmation of the models and prices soon.