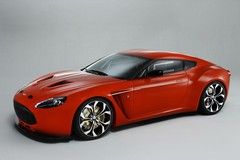 Aston Martin seems set to pitch (possibly predictably) its dramatically styled new
V12 Zagato
pretty much right at the top of its range, with a price tag of £330k pencilled in.
According to Dutch site Autoweek.nl, who broke the story, Aston Martin will also keep its collaboration with the Italian styling house limited to 150 units.
Which is probably a sensible thing, given that such a price tag is near-on twice as much as a DBS, the next rung down on the Aston Martin ladder, and two-and-a-half times what it'll cost you to get into a V12 Vantage - the car on which the Zagato is based. It also leaves only the super-exclusive One-77 above it in both rarity and cost.
And if you're wondering whether production plans for the new Aston Martin are officially official, so to speak, just take a look at Aston's own website, and you'll find the Zagato nestling proudly in the company's official product portfolio...
So, is the price of a decent detached house worth it for a re-bodied Vantage? That's a question which we'll leave you - and those thinking about actually buying one (the Aston, not a detached house) - to decide...