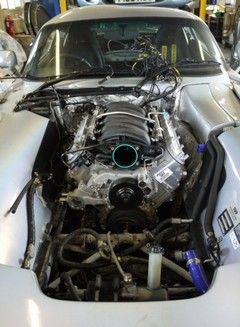 Waiting patiently to get your hands on one of
Mr Smolenski's planned V8 TVRs
is not the only way to get hold of a Corvette-powered Trevor, it seems. Buckinghamshire-based Topcats Racing is currently in the process of slotting a 7.0-litre LS7 GM V8 beneath the bonnet of a TVR Sagaris.
Topcats - which runs an LS7-engined Mosler MT900 in the Britcar endurance series - have already dropped Corvette mills into several race cars, and one road car - a Cerbera - which is now running around powered by an LS3 V8.
The insertion of the LS7 into the Sag is hardly a plug-and-play affair, though. Topcats has created a bespoke exhaust system and, among other things (all of which you can read about in more detail on the Topcats website), has had to relocate the air-con motor, alternator and starter motor.
When it's finished, the LS7 Sagaris should pump out well over 550bhp. We should find out soon - as you read this the engine will have been fitted, and the first fire-up will be a matter of days away.
Best of all, Topcats and proud V8 Sagaris owner Paul Black have agreed to let PH take the car for a spin once it's ready. Awfully decent of them, really...