And the worst used car in Britain is... A petrol Land Rover Freelander Mk1. The verdict comes from previous owners posting on a review website, who were ruder about it than owners of any other vehicle.
This is perhaps unsurprising given that most petrol Freelanders of that generation use the Rover 1.8-litre K-series engine with all its associated head gasket woes. The other petrol of course was the 2.5 V6, which is rarer than cheese-and-onion flavour Digestives.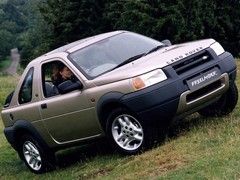 One customer 'gave up after 2 engines'
The website is WeLoveAnyCar, run by WeBuyAnyCar, which asks people who've just sold a car via them to tell others what they've thought. A sample comment: "Spent more time in the garage than being driven. gave up after 3 head gaskets and 2 engines."
From the total 572 Mk1 Freelander reviews on the site, the TD4 diesel actually does quite well, so it's pretty much just living with a sluggish, unreliable and thirsty petrol four-cylinder that annoys them then. On the plus side, it does make them quite cheap - £1,495 here for a 2000 car. And as we know, the head gasket problem can be averted if you're wise to its issues.
Again unsurprisingly, this unreliability for the 1997-2006 generation petrol cars is thinning them out rapidly. By delving into the DVLA statistics, the website reckons that just 60 percent of petrol Freelanders sold before 2006 remain, compared to 95 percent of petrol Honda CR-Vs sold before that date.