Hot on the heels of our story that PistonHeads 'hero brand' TVR is making a comeback with US V8 power later this summer, comes news from the US that someone else is thinking on the same lines already.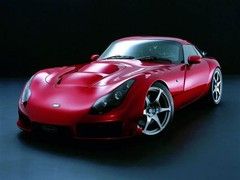 A pic from the US website advert
A new ad on US website carsforsale.com is offering what it calls 'remanufactured' Sags and Tuscans, apparently with a hole under the bonnet for the V8 (or other engine) of the buyer's choice.
While a US V8-engined TVR is a terrific idea in principle, we're not sure whether there's going to be much mileage in this new independent effort to make it happen.
That's because PH has just spoken to a very senior representative of TVR Motors: "We'd like to make clear that this has nothing whatever to do with us, and it appears to conflict strongly with what TVR is trying to achieve in future," Mr Smolenski's co-director at TVR Motors' James Oxley told PH in a telephone call from Austria. We further understand that TVR intends to closely scrutinise the operation to ensure its own interests are appropriately protected.
James wouldn't be drawn any further on that, or TVR Motors' own plans to relaunch, but has promised to keep PH abreast of developments as they happen. So we've had to curb our excitement for now, but naturally we'll keep you posted as soon as we hear anything.