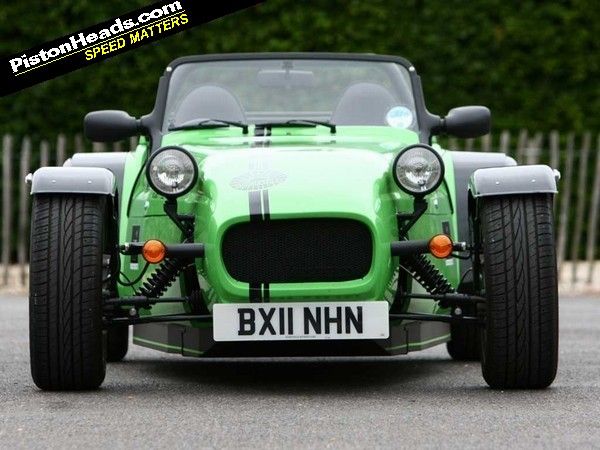 Known for its wild Seven-style lightweights and bang-per-buck thrills, a press release by Westfield suggests a different direction for the firm and a new car based on a carbon fibre chassis using a rotary engine. Designed in collaboration with Axon Automotive and AIE there's very little information about the proposed new car, other than it will be "a lightweight sports car based around technology that will meet the low CO2 challenges." Indeed, efficiency seems to be a guiding principle for the new model.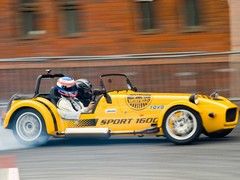 Don't worry, they'll still do this
"While there have been lots of attempts to make fuel efficient cars for the future all too often these have been rather too worthy and rather too little fun," says the press release. "Westfield Sports Cars is determined to address this challenge by building on its own heritage of high excitement cars together with new technology from Axon Automotive and AIE."
What technology might that be then, and where on earth are they going to get this lightweight rotary engine from? A little Googling on AIE reveals a historical link with Norton motorbikes and - therein - a clue, given that Norton famously pioneered the use of rotary engines on motorbikes. An interesting choice for a project claiming low emissions are a priority, CO2 and noise being two things rotaries traditionally chuck out in large quantities.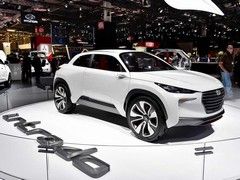 Axon and Hyundai worked on Intrado concept
Axon Automotive
, meanwhile, has extensive experience of developing affordable, production friendly carbon fibre platforms designed specifically for manufacturers seeking an off-the-shelf basis on which to design their own lightweight cars. Its patented
Axontex 'beam'
, which can be used to build carbon fibre space frames but is also adaptable into many different forms. From electric city cars to motor show concepts - the 2014 Hyundai Intrado was built using Axon's technology - it's clearly a firm with bold ideas, including its 'Far Platform Chassis'. This is described as "a generic carbon fibre chassis designed for niche carmakers to use as the platform for their cars. The structure is strong enough pass the Euro NCAP crash test on its own and is available as a kit of parts or as a finished chassis."
All very enticing, a contact able to confirm the new car "will look like a Westfield" but little more beyond that. More when we have it!
[Sources: Axon Automotive; AIE]