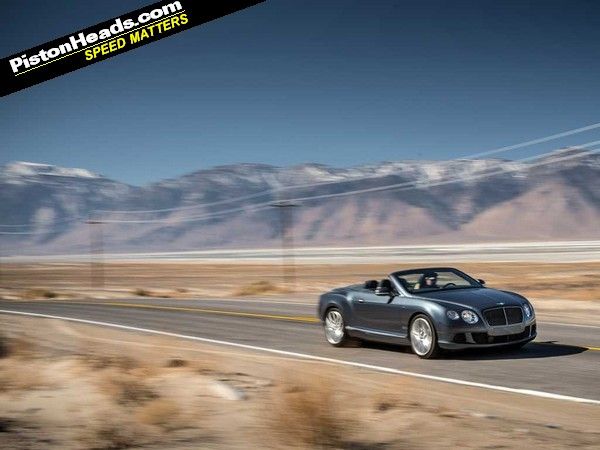 Intro:
Having driven
the coupe version
we sent Dan Prosser off to explore American car culture from the driving seat of a Bentley. You can read the full story of that on PH shortly - first a quick taste of what the car's actually like to drive...
---
Turning off the Las Vegas strip and up to the valet in front of an expensive hotel in a Bentley Continental GT Speed Convertible just feels right. A quarter of a million bucks drop top is in its element amongst the bright lights of Sin City, but in truth the Bentley has felt in tune with its surroundings for the past 700 miles we've enjoyed with it.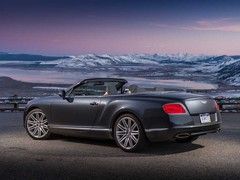 Looks a million dollars, costs a quarter of that
It's no surprise that modern Bentleys work so well in the United States. This year represents 15 years since Volkswagen took over the marque and in that time North America has become Bentley's biggest market. In 2012, it shifted 2,457 units in the region. Call it cause or effect, but either way these new Continental GTs are well suited to North American driving conditions; vast distances, relatively cheap fuel and stifling, keenly enforced speed limits. Not feeling as though you might be gobbed on at the traffic lights also counts for a lot.
With a top speed of 202mph, the new Bentley Continental GT Speed Convertible is the world's fastest four-seat drop top. The acceleration does instantly feel quite brutal thanks to 625hp and 590lb ft of torque, but you soon begin to feel just how the immense kerb weight blunts the performance.
The retuned suspension that comes with the Speed designation, as well as the 10mm lower ride height, does make for a slightly jiggly ride. It's far from uncomfortable, but road scars aren't ironed out as you may expect of a Bentley. The trade-off is reasonable body control and precision when the roads become more interesting, and with the suspension and gearbox in sport mode there certainly is fun to be had. You never feel compelled to really trouble the limits of grip, however.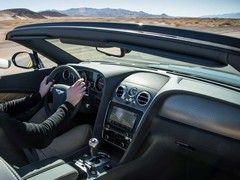 Not a bad place to soak up the sunshine
There's a curious lack of throttle response upon substantial applications, even when the appropriate gear has already been selected; it's as though the computers are working to protect the drivetrain. The slight stickiness to the throttle when lifting off is rather more irritating.
Our long drive gives plenty of time to consider what may be missing from these modern Bentleys. Platform and component sharing with a manufacturer as vast as VAG has put paid to any sense of idiosyncrasy, for this GT Speed Convertible now feels mass produced by robots rather than bolted together by men; a very British regret, I'm sure, and ultimately much better for business. That said, there is a handcrafted quality to parts of the cabin, so all is not lost.
Naturally, the GT Speed Convertible is a much better long-distance cruiser than it is a sports car and given its sumptuous cabin and amazingly effective wind deflector, finer open-top road trip companions are few and far between.

---
Bentley Continental GT Speed Convertible
Engine: 5,998cc, W12, twin-turbocharged
Transmission: 8-speed ZF automatic, four-wheel drive
Power (hp): 625@6,000rpm
Torque (lb ft): 590@2,000rpm
0-60mph: 4.1 sec*
Top speed: 202mph
Weight: 2,495kg
MPG: 19.0 (combined)
CO2: 347g/km
Price: £167,900 (before options)
*Bentley's far too old-school to quote 'metric' 0-62 nonsense