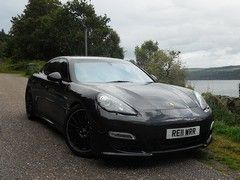 I am not given, upon jumping out of a new car to be faced with an expectantly smiling PR type, to dribbling, gushing hyperbole. Even if it's good, I (attempt) to maintain at least the pretence of professional detachment. With the Panamera Turbo S, this is something I signally failed to do. And not because the Scottish Highland test route I had just finished covered some of the greatest driving roads on the British Isles.
No, the reason for my babbling over-excitement was because Porsche has surely employed some sort of alchemy to create the flagship version of its Panamera saloon. And I do mean witchcraft, rather than science, technology or engineering knowhow, because the Turbo S's pace, agility and general capability seems to defy explanation.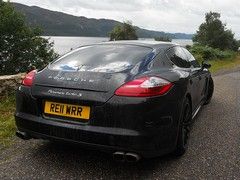 It does not, of course, actually defy the laws of physics, but it does seem to stretch them to their very limits, achieving feats of acceleration, handling and braking that are astonishing for a two-tonne, five-metre-long car.
Let's just look at a few of the choice numbers: 62mph comes up from rest in 3.8secs (that's McLaren or SLS territory right there), with a standing quarter-mile despatched in 11.8secs (in other words just 0.3secs off what an Audi R8 V10 can manage), while the big Porsche keeps going all the way to 190mph.
A total power output of 550hp helps with all this, as does a torque figure of 553lb ft (590lb ft is available on overboost), but the real key to the Panamera's stonking performance is its ability to make the absolute best use of all that power at any moment.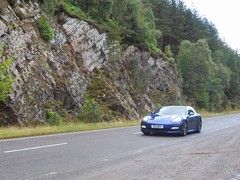 The Porsche Active Suspension Managment system, standard-fit on the Turbo S, does a fine job of tying the car's body to the road, controlling body movements without making the car unduly crashy (and thus limiting traction), while the Porsche Dynamic Chassis Control brings with it something very clever called torque vectoring. This acts as a kind of limited-slip diff-plus, not only sensing traction-limited wheels, but also pushing extra power to wheels it feels have more grip. The result is an uncommonly responsive machine, and one that seems surprisingly unruffled by the rivulets of water that cross-cross our soaked Highland test roads.
Oh, and lest we forget the fact that the turbos spool up 30 per cent more rapidly than they do in the non-S Turbo, making that extra 50hp seem more like 100hp at times.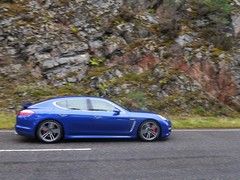 Of course, the Turbo S also does all the other stuff that Panameras do well, meaning excellent stopping power from the (optional) carbon-ceramic brakes, interactive but not hyperactive feel from the steering wheel, and the sort of relaxed, surefooted handling confidence that you can only get from a wide, long-wheelbase car.
There's also that cabin, which might make somebody used to the buttonless minimalism of iDrive-era cabins feel a little dizzy, but which actually works amazingly effectively once you've got a handle on where all the various buttons, switches and knobs are (although the two rotary dials that control the stereo and sat-nav functions are still a wee bit fiddly. There's also a vague sense that you're sitting in the cockpit of a fighter plane, which is always a good thing.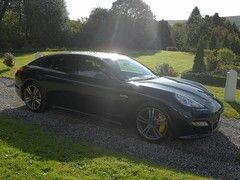 If I were writing this for somebody like
What Car?
, however, I might at this point bring in the fact that, for almost bang on £20k less, you could drop your backside into a 'regular' Turbo, which is damn-near as fast, damn-near as capable and a whole heap easier on the wallet. The logic of that line of thought, mind, is that you might as well go for the diesel version, which is near-enough half the price. And if you're going to do that, well, however impressive the diesel Panamera is (and it is that, albeit a weeny bit underpowered) you're three-quarters of the way to an S-class diesel.
But this is PistonHeads, and we understand that such logical decisions do not always come easy to somebody with a 50 per cent petrol/blood mix. And anyway, the Panamera should be about more than just logic because, given the Turbo S's staggering, almost other-worldly ability, if you have the funds to add an S to the rump of your Panamera Turbo (and you aren't offended by the idiosyncratic looks), you just would. And good sense be damned.