Fast Hondas are back, the red badge is back, the
is back. For hot hatch fans, indeed for fast car fans, this is hugely significant. Moreover, we are all patently aware that quite good simply will not cut it - anticipation has snowballed since the FN2 Civic's departure but the sector is now chock full of fantastic cars.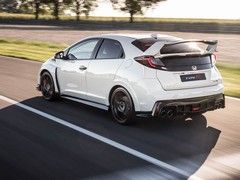 And it's turbocharged. Fine for making a fast hatch, but making a fast Honda? Hmm. It has always, always been about high-revving petrol engines and the Type R legend (no pun intended; what a thought...) has been built on screaming atmospheric motors. Honda even joined the diesel party late, such was its apparent reticence to sell anything but petrol. Type Rs are more than just magnificent engines, but they are such a key part of the appeal that average just will not suffice.
"Form follows function" says Honda of the design. Right. So at least every vent, spoiler, scoop and skirt has a purpose, which certainly has its own sort of nerdy appeal, but subtle this car is not. The previous car, the Civic which appeared so space age and mad not that long ago, looks almost demure by comparison. It certainly has some good angles but many very gawky ones also, creating a car that just has too much going on to appeal purely on looks. Certainly it will find some fans, but are those fans the people spending £30K on a hot hatch? A point to be picked up later...
Fortunately the inside is vastly more appealing. The new seats drop the hip point 20mm and grab you tight, the pedals and gearknob sit ideally even in a LHD car and there are shift lights. An interior is always improved by shift lights. The steering wheel is a little disappointing, festooned as it is with buttons and overly thick where your hands rest, but overall the cabin is spot on for a new Civic Type R.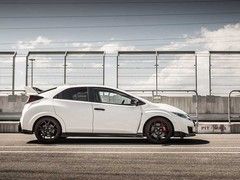 Does work better in the flesh. Honest
Let's talk about the engine. It's what everyone wants to know about. Put your fears to rest - it's excellent. Truly fantastic. It's not quite perfect but it does prove that Honda can make such a thing as a VTEC turbo.
The bad bits? Er, it doesn't sound great. There are whooshes and sneezes and a blaring induction but that sweet metallic howl of old VTECs is missing. Amongst the competition it's good, and at least the noise isn't fake, but those yearning for a piercing shriek over the last couple of thousand revs will be disappointed. Sorry.
However, it's a brilliant turbo. Honda has reversed the VTEC - bear with us - so that the high-lift exhaust cam is in operation at low revs, allowing exhaust pressure to be built up and ensure the turbo is responsive at higher revs with the less aggressive cam. The changeover is entirely variable also. So there's no thrilling 'just kicked in' episode but in its place is a fantastically responsive forced induction engine.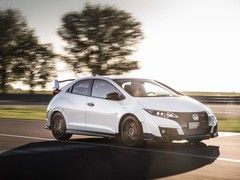 There's a lovely lack of inertia throughout, more so than in the Civic's rivals. There's a discernible ramp up in performance from about 2,700rpm but what's so exciting is the willingness at higher engine speeds. There's no sense of breathlessness as so often occurs, the keenness of 3,000rpm still there at 6,000 and above. Even with the lights you'll occasionally hit the (frustratingly soft) limiter, convinced there are more revs to come. By which point the Type R will be going really jolly fast too. It doesn't feel far off on A45 AMG to be honest. Of course some will bemoan the lack of natural aspiration, and it can't entirely disguise being turbocharged, but even the most ardent VTEC fanboy will enjoy this new engine.
Moreover, even die-hard dual-clutch advocates will love the manual 'box. Honda of course has a reputation for these too and it's a pleasure to report business as usual for a great gearbox. The throw is short (just 40mm) and precise, the weight really satisfying and the whole process will remind you just why the manual is worth saving. The brakes are superb too - full of feel, progression and power from the top of the pedal - which makes corner entry a joy. Approaching in third, rolling a foot to the throttle and blipping just as the lever snicks into second is joyous. If the shift lights don't illuminate then you're not trying hard enough...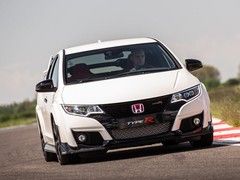 Variable dampers superb on road and track
"Optimised for the Nurburgring"...
Turn-in is super sharp, the whole car responding to the merest input on the wheel. Initially it's a little unsettling, especially as the steering itself is overly light, but you soon adapt to its immediacy and the rest of the car easily keeps up. Through a corner the Civic is fascinating, the outside wheel aiding the early stages as an inside wheel is braked with the focus switching to the inside as the limited-slip diff boosts exit traction. It's typical to say a diff 'drags' the car out of bends but the impression in the Civic is just of absolute resolve and composure. The dual-axis front strut really proves its worth out of slow corners, the car unfazed by exit bumps and ensuring every last bit of power reaches the road. The new Continental tyres - SportContact 6s, developed for the Type R - must help too. There's the occasional nibble at the wheel but nothing like the frenzy you may expect.
The continuously variable dampers (VDS) do a marvellous job of controlling body movements while retaining decent ride comfort, emphasising the sense of complete control and focus. It is a ruthlessly fast car. In fact the Type R doesn't feel dissimilar to a Renaultsport Megane in the way it tackles a road, and that's intended entirely as a compliment.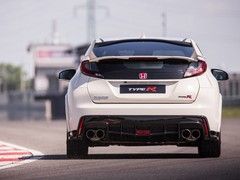 Aero is all functional says Honda
In all honesty, the '+R' mode ("optimised for the Nurburgring" say the engineers) seems a little redundant. Pleasingly it doesn't ruin anything with unnecessary stiffness or artificial weight but the standard setting never feels like anything is held back. It's the usual party box of sharper throttle, stiffer damping and heavier steering (through less power assistance actually) but also illuminates the dials bright red. That's enough to keep the button off.
On track at the Slovakiaring there is more good news though. The steering gains a little more life as the forces mount up, it still feels indecently quick and the brakes stand up really well. As for the high-speed aero, it certainly felt stable enough but that's something to investigate further with more time and a familiar track. A passenger ride with Gordon Shedden reveals it's more than willing to play the hooligan as well. There's a video too if you wish to laugh at a pathetically inaccurate lap and some hopeless flirting with the pretty instructor.
Whatever, any concerns that turbocharging will have seen the Civic Type R go soft have been entirely allayed here. It's ferociously rapid, technologically advanced, thrilling and involving in the best Honda Type R tradition.There remains much to discover when the car is in the UK - 50 or so road miles and five circuit laps is hardly extensive - but every sign suggests it will be a superb addition to the hot hatch segment.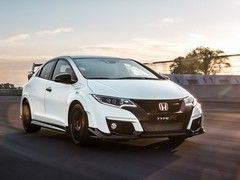 Expensive yes, but damn good with it
There's a problem though. A big one. The Civic Type R has always been a cheap car in Britain. Remember the furore when the EP3 was launched in 2001? '200hp for £16K!' the magazines excitedly proclaimed. Its successor followed a similar recipe of a low price and high revs to many buyers' delight. While superb at what it now does, the fundamental focus of the Type R has now shifted. It will match all and beat many of the c. 300hp hatches but it's also a £30K Civic Type R and that could be a stumbling block for many. It was the cheap hot hatch for young lads once, and now it competes with far more mature alternatives. Dull though the Golf R really is by comparison, the VW will slip into many situations the bewinged Nordschleife renegade will not. Annoyingly enough that matters to a lot of people.
Consequently sales forecasts are low. Honda says it's aiming for a 6.5 per cent market share with the Type R, which works out to about 1,500 cars in the first 12 months. Put simply this Civic will not be as numerous as the previous models, which seems a shame given the huge number of fans built up by the affordability of the old ones. But those that do take the plunge will find a truly exhilarating, superbly capable and outstandingly fast hot hatch, one that unequivocally proves Honda can definitely still do quick. Can it match the Renaultsport Megane? That's a question we'll answer soon, but knowing the comparison will be exceptionally close should be pleasing news for enthusiasts everywhere. Welcome back matey.
There's a lot to learn at the Slovakiaring...
---
HONDA CIVIC TYPE R
Engine: 1,996cc 4-cyl turbo
Transmission: 6-speed manual, front-wheel drive
Power (hp): 310@6,500rpm
Torque (lb ft): 295@2,500-4,500rpm
0-62mph: 5.7 sec
Top speed: 167mph
Weight: 1,382kg (Honda figure with a full tank)
MPG: 38.7mpg (Honda internal figure)
CO2: 170g/km (Honda internal figure)
Price: £29,995
Keen for more on the Civic Type R? Read the PH tech preview here.