While it's nice to drive a surprisingly talented new car, it's equally enjoyable to get in something that matches the very, very high expectations set for it. The Jaguar F-Pace is certainly one of the latter vehicles. And it would be daft to withhold the overarching first impression until the very end: the F-Pace shows every sign of being rather excellent.
That is to say, at least in the conditions we drive it in. Walters Arena near Swansea was the location for this prototype drive, an engineer's playground of rutted tracks, rock crawls, forest routes and plenty more. It was also raining apocalyptically, though nobody in attendance was surprised.
All three of the prototypes are 3.0-litre V6 diesel automatics, the same powertrain as used in the XF we tested recently. Jaguar has made no firm predictions on sales splits yet, but expect the four-cylinder Ingenium diesel to be popular in the UK. That diesel is offered with both rear- or all-wheel drive plus the manual and auto gearboxes; the V6 diesel and V6 petrol are all-wheel drive and automatic only.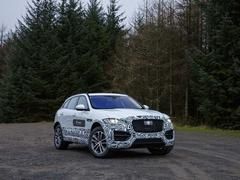 It's at 'final polishing' stage says Jaguar
Cue the Macan comparisons...
Even on a day that would make a Polo Harlequin seem a little washed out, the white F-Paces look very good. Clearly inspired by the rest of the Jaguar range but discrete enough to not appear simply an upscale, it's a handsome car. Certainly against the Macan - it was going to feature soon enough - it's a more resolved piece of design, and arguably more interesting than something like a Q5 or X3. A word of warning though - if this car looks a little underwheeled, it's actually on the 19-inch rims. The optional 22s don't sound so stupid now, do they?
Following a brief tech presentation, we're out into the mud, rocks and trees. But initial impressions are from the passenger seat, where again there are more positives to report. Not only is the InControl Touch Pro system a significant improvement over that used in the XF, the ride is superb. It's a trait apparent throughout the day, the F-Pace's ability to shrug off big ruts and undulations at speed promising much for attacking speed bumps around Kensington. That Integral Link rear suspension would certainly appear worth the weight penalty on this experience. The refinement it displays while being thrown along a gravel track is incredible, if not strictly that indicative of real world use.
To the driver's seat. Again, in typical Jaguar fashion, the relationship between seat, wheel, pedals and control is spot on. You sit low enough to feel involved but without removing the sense of riding a bit higher that so many love about SUVs. Perhaps it's not quite as cocooning as a Macan, but for some that could be a benefit anyway.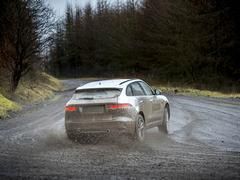 More than happy to play the fool if you are
Now Jaguar is very keen to stress that the F-Pace is a sports car first and foremost and that it has all road rather off-road capability. This is key to separate it from a Land Rover product and also retain the on-road dynamics Jaguar has prioritised. Because, let's face it, who buys an SUV to go off road? The F-Pace's important off-ro.. sorry, all road tech is the Intelligent Driveline Dynamics (IDD) all-wheel drive, Adaptive Surface Response (ASR) mode and All Surface Progress Control (ASPC).
ASR replaces the Winter setting in regular Jags, optimising the vehicle systems for the terrain it detects underneath the tyres. There are three settings it can cycle through according to surface; low friction for snow and ice, medium friction for gravel and wet tarmac and 'high drag' for deep gravel and snow. These tweak throttle response, transmission and the DSC threshold to make progress as seamless as possible over difficult terrain. Though the test route isn't the most varied - rain, mud, rain, mud and, oh look, some rocks - there's never a point where the F-Pace feels out of its depth, or like it's struggling to adapt to any changes. Mission accomplished then.
The All Surface Progress Control is pitched as a 'low speed cruise control', where the car modulates throttle and brake inputs to maintain a set speed on any surface. You use the plus and minus buttons for the cruise control and the F-Pace sticks to it; uphill, downhill, on rocks, mud or any surface, the F-Pace progresses at whatever speed you choose, up to 20mph. It's not revolutionary tech for off-roaders, but it's still a pretty neat trick. As is the Low Friction Launch, a more progressive throttle map to make slippery getaways easier. Just the thing for if it rains at Le Mans...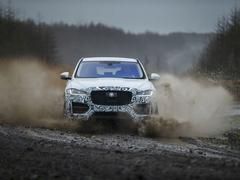 As good off-road as will ever be required
Once all that tech has been proven, there's a huge muddy field, some time to kill and an invitation to turn every single one of those assists off. Be rude not to, right? While F-Pace buyers are hardly likely have their diesel SUVs crossed up in a Welsh quarry, that it proved so adept (and hilarious) there bodes well for the road. The Intelligent Driveline Dynamics (IDD) all-wheel drive developed from the F-Type is very, well, intelligent and helps the F-Pace feel just as nimble and rewarding as you would hope from a Jag 4x4. At turn-in, power is taken from the front wheels to remove understeer and benefit steering feel. Then, as lock is unwound, the power is apportioned forward again to assist traction. That technology manifests itself as a car that turns in like it's rear-wheel drive, moves into oversteer like a rear-wheel drive and then powers out like a four-wheel drive. It feels supremely balanced and poised beyond the limit, the handling more akin to a larger hatch than a conventional off-roader. It even responds quite well to a Scandinavian flick... Of course these impressions will have to be qualified by on-road drives, but the signs are very good.
At a more sedate pace through the tighter forest sections, what's most impressive about the F-Pace is its ease of use. Selecting off-road modes through just one button and steering wheel mounted controls is of course familiar from other SUVs, but it's the way the F-Pace makes going off road so stress-free that really impresses. The steering wheel doesn't wrench in your hands, there are no unpleasant noises from the powertrain and even the rocks thud off the wheelarches quietly. It's more capable than will be required by the typical SUV customer but just as refined as they will expect from a Jaguar.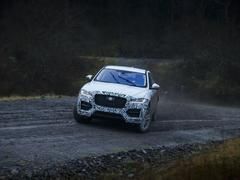 Guess what? It's really rather good
Downsides? It's genuinely tough to pick any out at the moment, with the caveat that this was a carefully managed Jaguar launch event. They're hardly likely to show it off in an environment where it struggles, after all.  The full launch on road in a couple of months will provide a more exhaustive test and reveal just how it compares to the German rivals. As with other Jaguars, it will be interesting to see exactly how much it weighs (this spec is 'from 1,884kg') and it's worth bearing in mind the list price with a few options too. As an example, this V6 diesel S with some bigger wheels, a panoramic roof and the InControl Touch Pro is a £55,000 car.
That being said, the F-Pace still feels like a real contender in this class. Its combination of Jaguar dynamics and style with more than enough off-road ability will ensure its success, particularly with British customers. The First Edition cars will be delivered in April and, from this drive, it deserves to be very popular indeed.

---
JAGUAR F-PACE 3.0D AWD
Engine: 2,993cc, V6 diesel
Transmission: 8-speed ZF automatic, all-wheel drive
Power (hp): 300@4,000rpm
Torque (lb ft): 516@2,000rpm
0-62mph: 6.2sec
Top speed: 150mph
Weight: from 1,884kg
MPG: 47.1 (EU combined)
CO2: 159g/km
Price: £51,450