Relevance and credibility. That's what those astonishing six minutes and 59.73 seconds around a certain German race track bought the Lamborghini Aventador SV. Hybrid and turbo Lamborghinis will no doubt happen. But in a glorious raised middle finger to the earnest and electrically-enhanced competition from Ferrari, Porsche and McLaren the Aventador SV has proved there is still a place for a gigantic V12 and a big set of balls.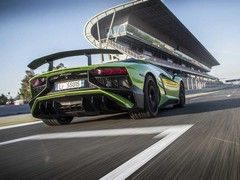 We knew the Aventador SV was outrageous in aesthetics, presence and noise. That it's now emphatically proven itself properly fast just adds to the theatre. And if you can't take a bit of childish glee in Lamborghini's rebellious lack of deference you're in the wrong place.
It was apparently a single lap death or glory opportunity too, a 15-minute window taken by Pirelli test driver Marco Mapelli where the stars aligned, he just about kept it on the track and the time came in under seven minutes. R&D boss Maurizio Reggiani seems as surprised and delighted as anyone, admitting he reckoned 7min 10sec was achievable. Having since studied the lap he reckons there could be more time to come too - there was no thought as to which of the three wing settings and resulting aero balances would work best because they didn't have time to do any other laps. They simply went with the 'basso' minimum set-up, Corsa mode and ESC on and left the rest to Mapelli.
Contrast this with Porsche's own sub-seven attack with the 918, pitching Rohrl, Timo Glock and Marc Lieb against each other and giving them two days to chip away at the time. Having previously witnessed Audi development supremo Ulrich Hackenberg very publicly put the Sant'Agata boys in their box you get the impression Lambo boss Stephan Winkelmann's mischievous grin at upsetting the established order is heartfelt.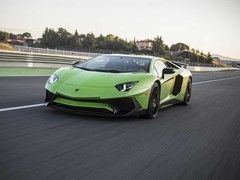 Let's leave the politics though, there's driving to be done. Time with the car is limited. Four sessions around the Circuit de Catalunya in ducks and drakes with other journos, places swapped each lap so everyone gets a go behind the instructor. But this is Lamborghini, so the instructor wears mirrored shades, drives very rapidly and when he gets bored of the pace behind him amuses himself by pulling extravagant four-wheel drifts up ahead. As sights go a sideways Lamborghini with a heat haze rippling the air above it and smoke pouring off all four tyres from the driver's seat of an SV isn't a bad one.
Differences between the 'regular' Aventador he's in and the one I'm driving? Well, 50hp more and 50kg less for starters, sticky Pirelli P Zero Corsa tyres and 170 per cent (no typo) more downforce, a bit less sound deadening, a lot more visible carbon inside and three-mode magnetorheological dampers as well. There are tweaks to the calibration of the Graziano single-clutch Independent Shifting Rod automated seven-speed gearbox, bigger forged wheels (20/21-inch including 13-inch wide rears!) with centre lock attachment and £55K on the Aventador's £266K starting price.
Rather more worryingly Lamborghini has also fitted its variable rack/variable assistance Dynamic Steering from the Huracan (via Audi). That car's biggest dynamic flaw, its inconsistency in weighting, ratio and feedback is a price Lamborghini felt worth paying for more inclusive city manners. But surely the SV is meant to be the hardest of the hardcore?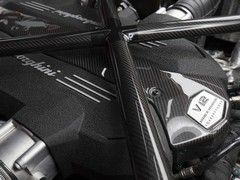 It's certainly a big old bus; 1,525kg dry in SV trim means knocking on 1,700 by the time you add fluids and driver. In standard LP700 form it feels it too. But pitching the SV into the tight right/left complex at the start of the lap reveals new found agility. Yes, the steering is lighter and more pointy. But it pitches the nose in with real conviction, Reggiani explaining that after our moaning about the Huracan's steering he insisted on a complete overhaul of the calibration and set-up. Meaning once you've applied lock the ratio remains the same for the rest of the corner, without that horrible sensation from the Huracan of the steering unwinding itself before you were ready. The ratio still opens at high speed, turn-in on faster corners less positive than it is on the slower ones. But it's much, much more natural feeling than the Huracan and no longer an obstacle that needs to be driven around.
Those variable dampers help contain the SV's bulk too, rapid weight transfers handled convincingly with no need to back out of the power. In Corsa mode it corners flat and with conviction, the clunk into third before hauling into the long right-hander that follows the opening complex showing the worth of the Corsa tyres and, as the speeds rise, the aero too. The real benefit of that comes beyond 80mph and if you ride out the still nose-led corner entry you can start pouring in the throttle - and the noise - nice and early. The tyres seem able to take it and the Aventador maintains a neutral stance before ever so slightly shifting its balance to the rear if you've been confident enough on the throttle.
The way it then erupts up the straights is just incredible. This is a big engine but it loves revs too, the power and torque curves climbing all the way to the raised 8,400rpm redline. Torque filling turbos or electric motors? The Aventador SV relies on cubic capacity, improved breathing and good old-fashioned mechanical tuning that has Reggiani beaming with pride as he explains it.
Enjoy it while you can folks, it is pretty special. The valve gear gnashes away behind your head, the induction system gargles in its crackle finish plenums and then there's the exhaust noise, broadcast through four plain, slash cut pipes grouped in the centre of the rear diffuser. No falsies here, just the pure brutality and aggression of the car's looks expressed in sound form. Yes, it's theatrical. But rather wonderful as well.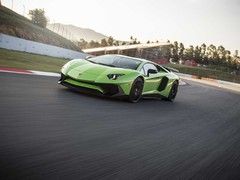 The pushrod operated magnetorheological dampers were chosen for function rather than gimmickry too. While Strada mode is apparently more comfortable than the standard Aventador on the road (we only drive it on the track) the ability to firm up the dampers was considered necessary if the additional downforce wasn't to squash it against its bump stops at higher speeds.
Plusher than a regular Aventador and yet at the same time more edgy and poised? Job jobbed. And if hardly playful through corners you can enjoy a small rotation on the power in tighter ones if you've been sufficiently disciplined to settle the nose first, though the four-wheel drive quickly pulls the car straight. Sport apparently gives more rear-bias, Corsa is all about composure and lap times.
So long as you're not a left-foot braker. Like every VW group product computer says no if you try and trail the brakes into a corner with your left foot while picking up the throttle with your right. Some might write this off as wannabe driving god pretension. But balancing the Aventador's considerable weight and propensity to understeer by carrying brakes into the corner yet being denied the ability to dial it out with power on exit is damned frustrating. At times it leaves you hanging for a couple of seconds or more, the instructor up ahead probably checking his hair in the mirror while waiting for you to catch up.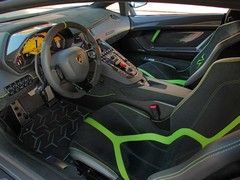 It's group policy says Reggiani flatly, countering that to most customers it's irrelevant and a necessary evil to protect the world against idiots who don't know which pedal does what. And whether it's a Polo Bluemotion or an Aventador SV rules is rules. His test drivers have moaned about it too apparently. His response to them (and by extension me) is amusingly blunt, and unrepeatable. Deference doesn't come easily to Lamborghini but this is clearly one battle Reggiani wasn't going to have with the German paymasters.
It's the one dynamic chink in the SV's armour and, nit picking detail or not, leaves the suspicion that Lamborghini can't entirely escape its designated role as poser's choice rather than purist's driving machine. In all other respects this is an Aventador transformed though, one that shrugs off its powerfully built stature and has proven itself capable of matching the very best technology and driving talent the likes of Porsche, McLaren and Ferrari can throw into the hypercar arena.
Best of all although it's a very serious car it doesn't take itself too seriously. There is absolutely no attempt at pretending this is about race-bred marketing, delusions of saving the planet at 200mph or trickle-down technology that'll benefit the rep in his saloon or school-run mum in her supermini. It's simply an outrageously fast, noisy and attention seeking vehicle the like of which we had posters of on our walls or sketched out in our exercise books when we should have been concentrating at school. That it does all this while in possession of the killer Top Trumps stats is final proof that keeping it real always scores highly in the hero stakes.
---
LAMBORGHINI AVENTADOR LP750-4 SUPERVELOCE
Engine: 6,498cc V12
Transmission: 7-speed ISR (Independent Shifting Rods) automated manual
Power (hp): 750@8,400rpm (700@8,250rpm)
Torque (lb ft): 509@5,500rpm
0-62mph: 2.8sec (2.9sec)
0-125mph: 8.6sec
Top speed: 'over' 219mph* (219mph)
Weight: 1,525kg (1,575kg)
MPG: 17.6mpg (16.4mpg) (NEDC combined)
CO2: 370g/km (398g/km)
Price: £321,743 (£266,715)
*Top speed limited 'within tolerances' and achievable in all three aero configurations
(Figures in brackets for Aventador LP700-4, where different)