If the soon to be replaced F10 BMW M5 ever
had a problem
it certainly wasn't a lack of muscle. Last time we drove it in
30 Jahre form
it was packing 600hp from its 4.4-litre twin-turbo V8, an upgraded output carried over into the farewell
Competition Edition
From its first appearance back in 2011 the problem the M5 has faced has instead been focused on its character. Or lack of it. Ludicrous speed is all very amusing, especially delivered in a relatively understated package. But somewhere along the line the M5 forgot how to make it fun, exciting or even interesting. Enter the Lexus GS F...
By the numbers there's less a chink in the GS F's armour than a failure to strap its codpiece on before going into battle. These days 500hp is an absolute minimum; the M5's parting shot is stakes raised to 600hp to even be considered a contender. AMG will be turning up the boost on its 4.0-litre V8 in the forthcoming E63 as we speak but into this fight comes the Lexus with ... oh ... 476hp and a mere 390lb ft of torque. Worse, to access that you need to actually see the needle on the rev counter creep beyond 1,500rpm. What is the world coming to.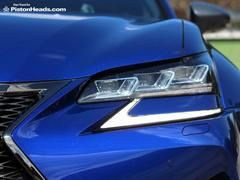 There's no missing it, that's for sure
With due respect to accountants, Rachel Riley and other professional number crunchers, there is more to life than digits. A car like a V8 super saloon shouldn't be bought purely on logic. At all on logic. No, to spend a vast amount of money on a thirsty, overpowered saloon car whose 0-62 time is beaten only by its speed of depreciation, there needs to be some sort of emotional hook beyond the stats. This, for all its technical competence, heritage and huge speed, is where the M5 lost the plot.
And where the GS F's eccentrically Japanese interpretation of the formula could yet succeed. Because whatever the comparative stats say this is not a slow car. Hefty kerbweight or not 476hp is a lot of power, 4.7 seconds isn't long to reach 62mph and 168mph is fast enough for extended time on the naughty step. To win in this game a super saloon has to be interesting at a third of that speed, or less.
It looks sufficiently wacky for starters. Maybe the 'pop' of the Azure blue paint in the summer sunshine helps. And its contrast against the real carbon lip spoiler and bumper trim, the grey forged wheels and orange F-branded Brembo brake calipers. The Lexus looks instantly exotic; not beautiful exactly but something a bit different, from its gaping 'spindle grille' and triple lens headlights to its diagonally stacked exhaust tips. Thankfully real this time and not bumper trim like the IS F.
It's the same inside too. Organic looking contours and stitching in the leather contrast with coolly minimalist aluminium and carbon trim, with blade-like shift paddles and a high-definition display - including a rev counter that changes according to the driving mode - nice little nods to the highly regarded LFA supercar.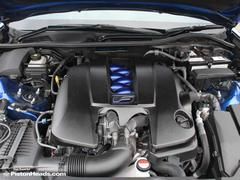 A welcome return for the atmospheric V8 saloon
That car's manifesto of a high-revving, naturally-aspirated engine has carried through into the more mainstream Lexus performance products like the GS F and the closely related
RC F
coupe. For traditionalists that's rather cool. For the number crunchers out there it's pitifully outgunned compared with the turbo-enhanced Germans.
Against the Ms, AMGs and RS models the Lexus is a curious mix of Japanese high-tech and rather old-school engineering. So there are variable driving modes, a central monitor big enough to rival the flat screen in your living room, a high compression (12.3:1) V8 with titanium valves that can switch combustion cycles into a fuel-saving Atkinson mode (like a Prius), and a multi-function Torque Vectoring Differential with a special Slalom mode (not at all like a Prius). But passive dampers, a traditional torque convertor auto and rather old tech - if proper - slotted steel brakes.
For some inexplicable reason it's also got fake engine noise played over the speakers - like an M5 - despite the naturally aspirated engine sounding rather nice on its own. We know this because, unlike BMW, Lexus helpfully provides a switch to turn it off if you don't like it. Other quirks include a £69,995 bottom line price that proves exactly that, even with the carbon bits, premium nav and all the fancy trimmings you can throw at it, bar a sunroof and Mark Levinson hi-fi. Even with those added and fully optioned you're under the £74K starting price of a base M5.
On the road in the GS F, the pleasant surprises continue. Closest comparison that springs to mind is the first version of the previous E63 AMG; the one with the lovely 6.2-litre V8 before the arrival of the mentalist 5.5-litre twin turbo. It's an easy car to understand. Want more noise or speed? Depress accelerator pedal. Assuming you haven't accidentally left it in Eco mode you'll get a steady increase in speed and noise up to the point where the virtual rev counter needle passes '4', from where things start to get really interesting. Keep it spinning - those shifter paddles need Sport or Sport Plus to assert themselves - and the upper half of the rev range really shows the GS F's hand. And by this point it starts feeling properly rapid, the thrilling lunge to the redline a standout feature these days.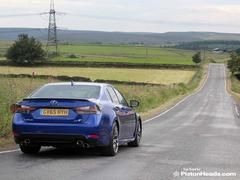 Really rather good out here in fact
Pleasingly the rest of the package is well up to the job of handling it too. The steering is electrically assisted but far more feelsome than the M5's artificially weighted wheel, and once clear of some low-speed choppiness the Sachs dampers have a lovely, predictable flow about them. Those old-school brakes have a great pedal feel too, the solidity and progression in their response clearly the work of people who 'get' driving. A pity then there seems to have been a little caution in the set-up, the front keener to push on than grip and let that fancy rear diff really show what it can do. But the main worry is that by the time the GS F is really in the zone you'll be carrying some quite serious speeds, an issue with high-revving naturally-aspirated cars we all seem to have conveniently forgotten in the moaning about modern turbo motors.
Likewise the fuel consumption that, Eco mode or not, was showing in the high teens after our week at the wheel and with several hundred miles of that taken at a steady cruise-controlled motorway mooch.
You'd hope anyone buying a car with a 5.0-litre V8 would be doing so with open eyes about such matters though. And by rejecting the arms race for ever more impressive but ever less relevant horsepower figures and concentrating more on the experience the GS F is worthy of praise. The Germans are so dominant in this sector it takes some brass ones to even try it on. That Lexus does so with single-minded character and charisma is impressive, given these are not qualities we tend to associate with its Toyota parentage. Of all the players on the field it's a surprise and delight to find it here.
---
LEXUS GS F
Engine: 4,969cc, V8
Transmission: 8-speed auto, rear-wheel drive
Power (hp): 477@7,100rpm
Torque (lb ft): 391@4,800-5,600rpm
0-62mph: 4.7 seconds
Top speed: 168mph (limited)
Weight: 1,790kg (Lexus minimum kerbweight)
MPG: 25.2
CO2: 260g/km
Price: £69,995