Believe it or not, there are a few similarities between the
and the Spa-Francorchamps circuit. Bear with, just for a second. We will all most likely have some virtual experience of both, or watched other people master them, and felt like we have a good understanding of each. This happens, then you do that, all followed by Internet notoriety from your stunning helmsmanship.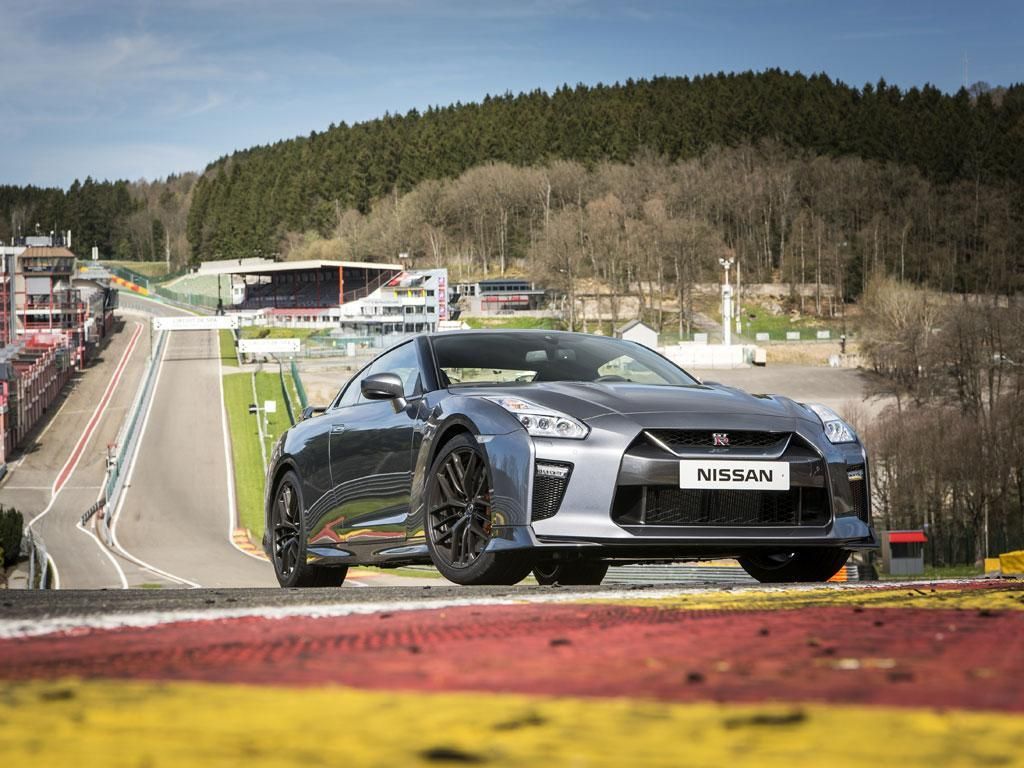 Hope you've put the handbrake on
But of course the reality of Spa and the Nissan GT-R is quite different; not only are they each more demanding to get the best from in real life, they are also markedly more intimidating, rewarding and entertaining. So while six laps is not enough for a conclusive verdict on either, it certainly wasn't an invitation to pass up.
Therefore a detailed test of the MY2017 GT-R, "the most comfortable model to date" no less, will have to wait for another time. But we promise to divulge every last detail of the new leather, the updated infotainment and the "new sense of elegance and civility" just as soon as possible. For now it's time to see if the 'R' part of this legend has endured another facelift intact. Nissan has a graph to prove it has, but what of the reality?
Our Spa laps are conducted in three-lap stints with instructors from RSR. Mine questions quite aggressively why I'm going for the brake with my left foot, adjusts both wheel and seat for me and releases the handbrake as well. Which doesn't bode well. Sadly his mollycoddling attitude continues on the circuit - right up to adjusting the wheel through Pouhon (!) - but there's ample opportunity to get some impressions of the car.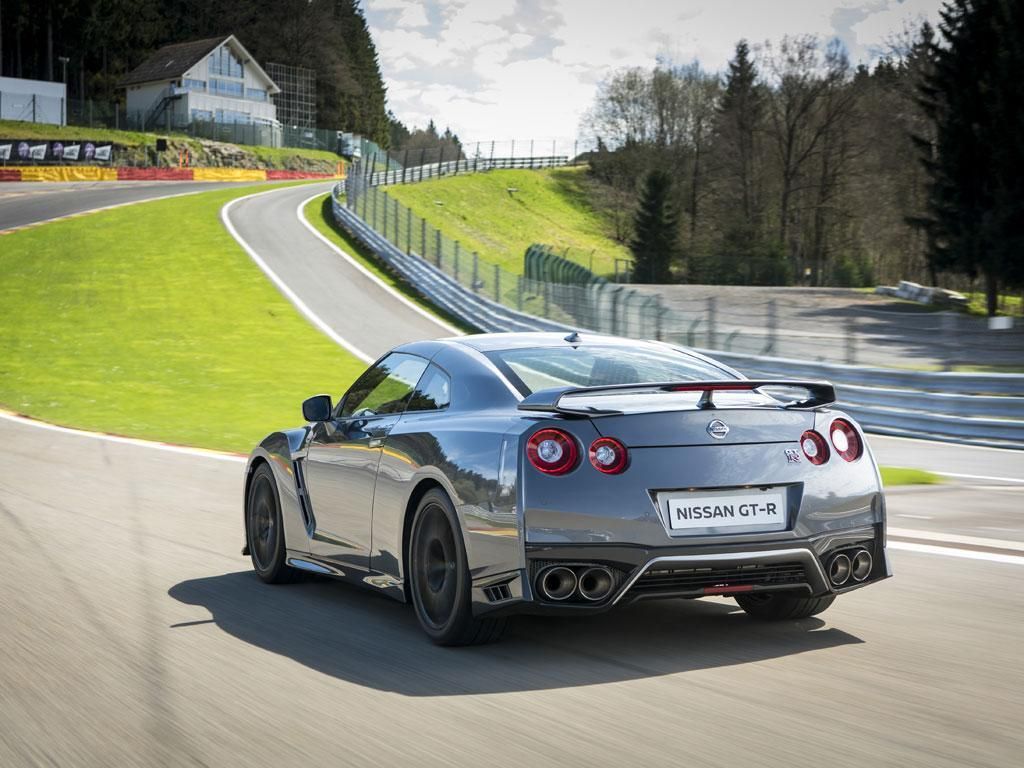 Hang on, is this the line for Eau Rouge?
Heck is it fast. And Boris doesn't like the EU. Yes, it's an obvious thing to state about the GT-R, but it still stuns after all this time and even on a vast circuit. Nissan says the additional 20hp is more notable at higher rpms but, in all honesty, it would take a back to back comparison to really tell the difference. The new titanium exhaust appears to have given the GT-R a voice that's less influenced by the turbochargers, but the first I notice of the Active Sound Enhancement is when it's mentioned in the press conference. One to explore on the road and without a helmet on. Certainly any claims from Nissan about a more plush GT-R experience are relative - at full throttle this is still a wild, invigorating, brilliant experience.
It's a similar story when you (or your instructor) are steering as well. The most significant claimed improvement for this GT-R is the increased body rigidity, thanks to "intensive engineering updates" around the windshield frame to give a crisper turn in; tweaks at the rear are said to bring more uniform rigidity and therefore better balance. The 'R' and 'Comfort' modes on the Bilstein dampers are said to be further apart than previously too. In a quantifiable sense, this has made the GT-R's stability "greatly enhanced" at 155mph and also means the car is four per cent faster through Nissan's slalom test.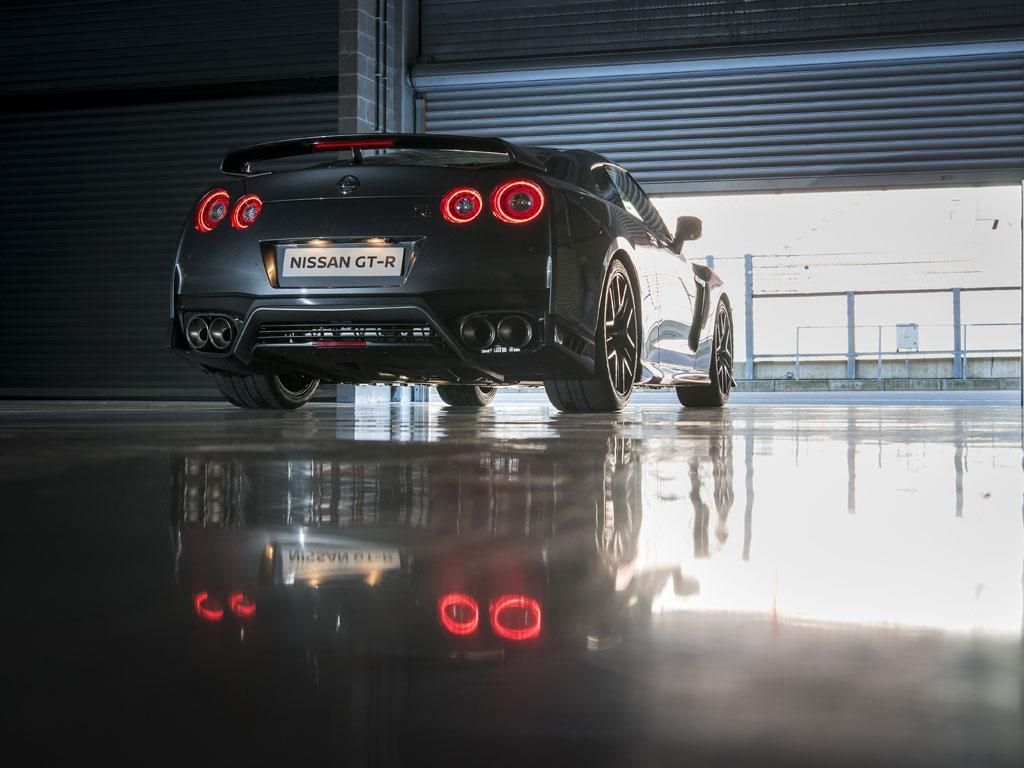 Feels very similar thus far - good!
The real world impression of these gains is, once more, negligible. Perhaps this GT-R is a fraction more alert than the last, but it doesn't feel substantially so. In all honesty that's no bad thing, because the way a GT-R drives is one of its most endearing features. The way 1,800kg can be so precisely controlled remains incredible, the whole car amenable to whatever way you want to drive. Or the instructor tells you to. The stability in the quick stuff is fantastic, the traction out of slower bends mighty and the brakes seemingly tireless despite some grumbling. A GT-R track toy would be an expensive one to maintain, but one far more involving and exciting than many would give credit for.
Encouragingly then, from the track test much of what we love about GT-Rs is still present and correct. Not all of the update has been successful - the big column mounted paddles have been swapped for wheel mounted ones - but the GT-R hasn't been turned into a cushy cruiser in the autumn of its life. It's still a driving experience like no other, one that fans will love and detractors will continue to dismiss. If you've never had a go, you really must. And hopefully before the 2018 model update we will have driven this one on road for a decisive verdict.

---
NISSAN GT-R (MY17)
Engine: 3,799cc V6 twin-turbo
Transmission: 6-speed dual-clutch auto, four-wheel drive
Power (hp): 570@6,800rpm
Torque (lb ft): 469@3,300-5,800rpm
0-62mph: 2.8sec
Top speed: 196mph
Weight: 1,752kg (minimum kerbweight)
MPG: 23.9mpg (NEDC combined)
CO2: 275g/km
Price: £79,995 (Pure spec, £81,995 for Recaro, £82,495 for Prestige with Black leather seats or £83,495 with Tan, Ivory or Red leather seats)